Rady Children's Hospital announced Monday it will create a genomics research center that will focus on helping children suffering with diseases that are difficult to diagnose.
"This is going to change the world and we're doing it in San Diego," said Donald Kearns, President of Rady Children's Hospital.
The Rady Pediatric Genomics and Systems Medicine Institute will assemble scientists, researchers and clinicians to work on treatments and cures for childhood diseases.
The research center was made possible by a $120 million donation from Ernest Rady and family.
"This is the beginning," Rady said calling on others to offer future grants and endowments to build a world-renowned research institute.
One location will be at the hospital's location on Frost Street. A second location will be in Torrey Pines amid other biotech companies and labs.
"We have the ability and we have the duty to save the lives of millions of children worldwide through the scientific advancements we make here in San Diego," Kearns said.
The Board of Trustees of Rady Children's Hospital has pledged $40 million to help fund the operations of the center.
Retta Beery said she and her husband Joe "know the despair and intense pain that comes with having children with life-threatening medical ailments that are mysteries."
She believes her children are alive today because of the advancements in genomic medicines.
Their son Zack is now 20 and their twins Noah and Alexis will be 18 this year.
"You have no idea that anything is wrong with them," their mother said.
Through genomic sequencing, doctors were able to find the mutations in the Beery's genes that caused the birth defects in their children.
"It's totally treatable," Beery said.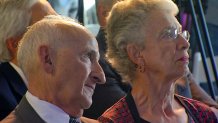 There are other genomic institutes connected to children's hospitals around the country. One thing Rady Children's Hospital will be doing differently is outsourcing the sequencing of genomes. Kearns said the San Diego center will invest funds in staffing instead of equipment.
UC San Diego will work with the Rady Pediatric Genomics and Systems Medicine Institute in the project.