A swarm of earthquakes, hundreds in total, that began to shake Imperial County Wednesday afternoon continued on Thursday and could last for another few days, according to a local geologist.
The swarm was centered in Westmorland, California and were first felt at about 4 p.m.
By the evening there were about 284 earthquakes in the Imperial County. By Thursday afternoon, that number was more than 700, the majority minor quakes with magnitudes in the 1.2 range.
The largest quake was a magnitude 4.9 a little after 5:30 p.m. Wednesday that was felt in parts of San Diego County and Tijuana, according to United States Geological Survey's Did You Feel It? map.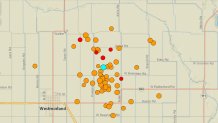 "The swarm happening now south of the Salton Sea, near Westmoreland, is over 30 km south of the end of the San Andreas," tweeted seismologist Dr. Lucy Jones. "It is in the Brawley seismic zone, a common source of swarms …. too far from the San Andreas to change the probability of a quake on it."
Pat Abbott, who is professor emeritus at San Diego State's Geological Sciences Department, is currently getting some R&R in Santa Fe, New Mexico, but spoke to NBC 7 about the area and the swarm. He said the swarms are a normal phenomenon for that geological region, happening every few years.
"This is a very unique area of the United States," Abbott said. "No place else like this at all…. Effectively, the folks out there are not sitting on the continent with the rest of us; they're sitting on ocean floor. Ocean floor meaning the Gulf of California, with a lot of sands that the Colorado River has brought in."
Brawley also said that the swarm is, in effect, evidence of San Diego and Baja California pulling away from mainland Mexico and the United States.
"This area is famous for seismic swarms, so what we're getting here is stunning, the numbers, yes they are, but this is not a rare event there at all," Abbott said. "This can happen every year, every few years, and it has throughout our seismological records. We call it the Brawley Seismic Zone."
Abbott said Mother Nature is having a good time, but there is nothing to indicate this will lead to a larger earthquake. He said the swarm is not likely to trigger the much more dangerous San Andreas Fault.
Abbott said it's possible the swarm could continue for another few days.