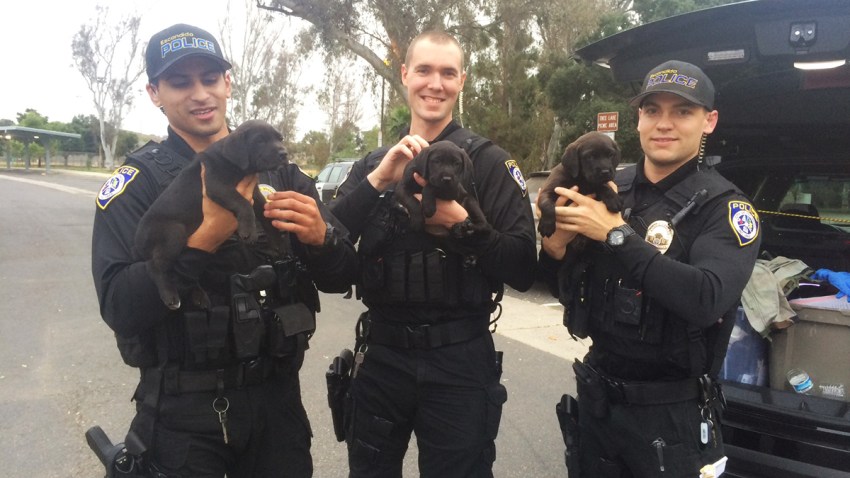 Three puppies found shivering and alone in a Southern California park may end up with the police officers who helped rescue them.
Escondio Police Officers Nathan Visconti, Christopher Dare and Jose Guerrero were called to Kit Carson Park Monday at 6 a.m. for the final call on their overnight shift.
A woman running through the park stumbled on the eight-week-old lab mix puppies. The pups were barely bundled in a coat on the grass.
Tracy Plowy left the pups to call for help, and by the time she came back, she said "three policemen (were) holding each of the puppies."
"They were cold and scared," Visconti said as he described how he picked up one of the puppies and cradled it.
"Immediately, as soon as I saw those three puppies, before they even had a chance, I picked mine," said Officer Guerrero. "I told them it's game over."
The puppies had probably been at the park all night before they found them, the officers said.
"We're like 'Where's Jose and the third puppy','" Visconti said. "And we look over and he's holding it up and he was singing to it."
As excited as he may have been, Guerrero denies there was any singing involved.
"I will admit the dog was being held up like baby Simba," he said.
Dare says it was like Christmas morning and an experience that they didn't want to come to an end.
"We were sitting on a curb playing with puppies. That's not an ending you see very often," he said.
At the same time Escondido Police were called, the San Diego Humane Society were told about the pups in the park.
The officers said they are interested in giving the puppies a home but they still have to get their loved ones on board with the plan.
"Mixed results," Visconti said. "We're working on it."
They've each chosen the name "Leo." There's apparently some debate over which officer chose the name first.
The puppies will be on hold at the San Diego Humane Society for the rest of the week while they receive medical exams.