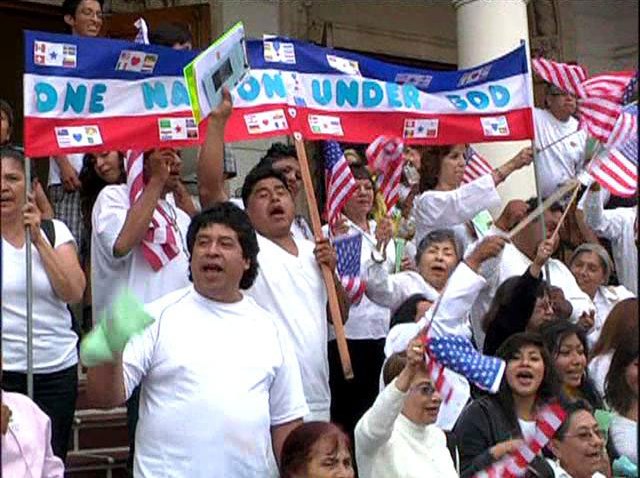 In response to Arizona's controversial immigration law, religious and ethnic groups held an immigration rally today fighting for what they believe are basic human rights.
Sunday's rally brought more than 1,000 people to downtown calling for immigration reform. The gathering comes after rallies of support for Arizona's law against illegal immigration and fears that police here in San Diego will begin more deportations too.
They say both the controversial Arizona law and the death of an immigrant in custody show the need for change.
Callin for "an immigration reform that gives our community a more dignified way of living," reformers marched, chanted and carried signs.
"We have people here that have come to make a living and be able to be productive members of society," said Norma Sandoval, one of the event participants.
The rally led a progession of people to the St. Josephs Cathedral.

Some marched, some came by bus to hear Juan Gomez who is in the U.S. legally, but spent 4 months in prison after being picked up by immigration officials.
"I had showed them that I could stay here and they didn't listen to me," Juan Gomez said. "They don't want to release me."
While activists admit detainment of illegal immigrants is the law, they want Congress to change it.
"Please work on immigration reform. Give us the rights that we deserve. Help us to live so that our families can enjoy too the things that other people do," said Christy Figueroa of the San Diego Organizing Project.
Immigrations and Customs Enforcement officials have set a goal of 400,000 deportations this year.
Reports say last year, 387,000 illegal immigrants were deported. That's about twice the number ten years ago.