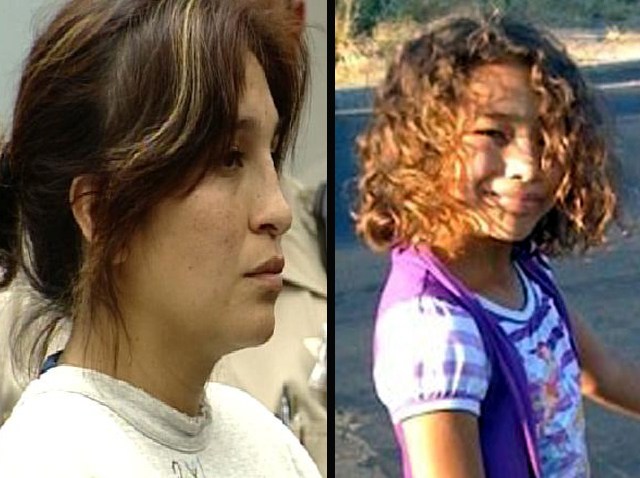 A mother accused of murdering her 9-year-old daughter abused the girl for months, according to prosecutors.
"Including being strangled, punched, kicked, burned and thrown to the ground," said prosecutor Lindsey Krause.
Crystal Cardenas, 25, pleaded not guilty to 9-year-old Elizabeth Holloway's murder in a San Diego courtroom on Wednesday.
Prosecutors say Cardenas had been abusing Elizabeth for the last 17 months -- ever since she moved in with her. Holloway previously lived with her father in the Los Angeles area.
"A few days before her death, the defendant had punched and kicked Elizabeth in the abdomen area, which would later be determined by the Medical Examiner's Office to have caused a bruised pancreas," said Krause.
The prosecutor said Elizabeth suffered a slow and painful death over the next day or so as a result of her injuries.
"Elizabeth vomited a few times over these days. She described not being able to feel her legs and she told her 7-year-old half sister that she thought she was going to die," said Krause.
Officers received a report of a non-breathing child at a home in the 300 block of Milbrae Street in Mountain View on January 17. The family told police Elizabeth did not appear to be breathing and had "sort of a fixed look in her eyes."
Elizabeth was transported to Rady Children's Hospital, where she died at 11:56 p.m.
Cardenas was arrested as she walked in the 1600 block of Canyon Road in Spring Valley at 10.25 a.m. on Monday. She was booked into Las Colinas Women's Detention Facility on one count of murder.
Cardenas is being held on $2 million bail. If convicted, she faces 25 years to life in prison.
Child Protective Services took Elizabeth's siblings, a 1-year-old and 7-year-old.