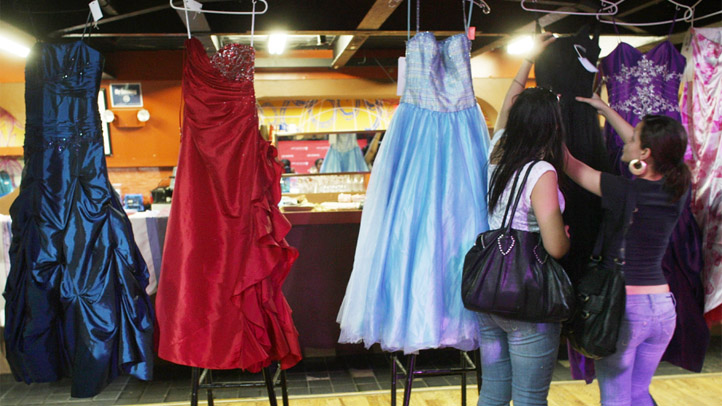 Hundreds of local teenagers will receive free prom dresses thanks to a San Diego charity that aims to help students in need.
Cinderella's Attic, a non-profit organization that provides formal gowns to prom-bound teens, will hold its annual "Prom Boutique" event on Sunday at the Hilton Hotel in Mission Valley.
From 12 p.m. to 4p.m., high school students can head to the hotel to pick out a fancy gown, shoes, purses and jewelry to wear to their school dance. This year, girls who attend the event will also get free hair and makeup consultations from 30 participating Paul Mitchell stylists.
The gently-used dresses and accessories – which are donated to Cinderella's Attic year-round – are provided to the teens free of charge.
The mission of the non-profit organization is to give underprivileged students the confidence and support to be able to attend these special, once-in-a-lifetime school dances alongside their peers while feeling pretty and pampered.
"We're trying to create memorable experiences for these young women that build character, confidence and self-esteem inside and out," said Kerry Spark, president and founder of Cinderella's Attic. "In addition to shopping for dresses and shoes, these girls are also getting hair and makeup without spending a dime. How special is that?"
Spark is a teacher who was inspired to start Cinderella's Attic in 2006 after seeing firsthand how the cost of being a teen can have emotional and social impact on students.
Students looking to attend Sunday's prom dress giveaway should RSVP with Spark at Kerry@CinderellasAttic.org. All high school students that attend the event will also be entered into a drawing for gift certificates for salon services and other prom goodies.
To learn more about Cinderella's Attic or to make a donation, visit this website.