Thousands of firefighters and people who wanted to pay their respects lined Interstate 15 to watch fallen firefighter Cory Iverson's funeral procession make its way to El Camino Memorial Park in Sorrento Valley Sunday.
"Today has been a day that I am struggling to find words to try and describe," Cal Fire Chief Tony Mecham told NBC 7. "Cory Iverson made a decision to seek a profession where he put others first and by doing that that comes at great consequence to his family."
Mecham traveled with the procession from Ventura County Sunday morning. "We were never alone for 203 miles today," he said. "For 203 miles not a single overpass did not have multiple fire engines standing in salute."
Iverson, 32, was a Cal Fire Engineer from Escondido. He was part of a strike team made up of five engines with Cal Fire San Diego that were in an active area of the Thomas Fire in Fillmore, California when an accident occurred at about 9:30 a.m. Thursday. Iverson died in the accident. It was revealed Saturday that he died of thermal injuries and smoke inhalation.
"It's just heartbreaking," Ventura County resident Lauren Jayne told NBC 4 LA. "Everybody's working so hard, and there's so little we can do except for to just be human and to try and do something kind."

The procession left around 10 a.m. from the Ventura County Medical Examiner's office, traveling southbound on Highway 101. It then moved onto State Route 134 and Interstate 210 before continuing south to Interstate 15 arriving in San Diego around 1:20 p.m.
The procession ended at the El Camino Memorial Park cemetery in Sorrento Valley around 2:12 p.m.
Natalie Pomiak decided to honor Iverson's sacrifice by coming out to watch his procession. "We're so grateful and thankful for all that they do and they put themselves [through] to protect us," she said.

Scripps Ranch resident Christine Bowen agreed. "We've lived in the community for 20 years, so we have been part of fires in the past and it's a big deal, and we want to bring this fallen firefighter home," she told NBC 7.

Iverson's remains will stay at the El Camino Memorial Park until his memorial service on Dec. 23. The service will be held at The Rock Church on Rosecrans Street in Point Loma at 10 a.m.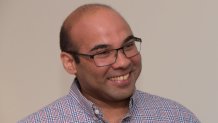 Iverson is survived by his wife, Ashley, and their two-year-old daughter. His wife is pregnant with a second child, expected in May.