There's more than a couple must-see shows this winter in San Diego.
From an extended world premiere production to holidays favorites and a long-anticipated smash Broadway hit, here's a roundup of some of the season's hottest tickets.
Dr. Seuss's How The Grinch Stole Christmas
Nov. 4 - Dec. 24, The Old Globe Theatre
Whoville comes to life in Balboa Park! The San Diego favorite is celebrating its 20th year on The Old Globe Stage. The family favorite features songs like "This Time of Year" and "Fah Who Doraze." For tickets, click here.

SUMMER: The Donna Summer Musical
Nov. 7 to Dec. 24, La Jolla Playhouse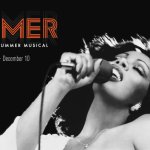 The Queen of Disco makes her debut at The La Jolla Playhouse this fall in this highly anticipated musical from the team behind "Jersey Boys." The original musical will chart the life of Donna Summer - the voice of a generation. The score will feature more than 20 of Summer's classic hits and electric dance songs. To learn more about the team that put together the musical, click here. "Jersey Boys" director Des McAnuff, who worked on the La Jolla Playhouse-bred hit musical, will helm the show, and Sergio Trujillo ("Jersey Boys", "Memphis", more) will choreograph.
Miracle on 34th Street: A Live Musical Radio Play
Nov. 24 - Dec. 24, San Diego Musical Theatre
This heartwarming classic -- retold in the tradition of a live, 1940s-era radio broadcast -- returns to San Diego Musical Theatre for its second year. The story follows a department store Santa who claims he's the real deal and one little girl's belief in him. For tickets, click here.
Hershey Felder as Irving Berlin
Dec. 20, 2018 - Jan. 7, 2018, San Diego Rep
Award-winning showman and San Diego favorite Hershey Felder brings the story of Irving Berlin to the San Diego Rep. The production follows Berlin from Czarist Russia to New York's Lower East Side and all over the world, capturing the essence of the American dream. For tickets, click here.
Motown
Dec. 26 - Dec. 31, San Diego Civic Theater
Wrap up a year of wonderful theater by checking out this fun jukebox musical filled with all your favorite Motown hits. The musical follows the story of Motown founder Berry Gordy's journey from a boxer to music mogul. You'll hear classics like "My Girl," "Ain't No Mountain High Enough" and more. For tickets, click here.
Hamilton: An American Musical
Jan. 6 to 28, 2018, San Diego Civic Theater
[G] Fans Line Up for Hamilton Tickets in San Diego
The smash hit Broadway musical finally, finally lands in San Diego. The popular musical follows the life of one of America's Founding Fathers, Alexander Hamilton. The score blends hip-hop, jazz, blues, rap and R&B. If you don't have your tickets, you may need a small miracle to secure your seat. To learn more, click here.
The Importance of Being Earnest
Jan. 27 - March 4, 2018, Old Globe Theater
Oscar Wilde's hilarious comedy "The Importance of Being Earnest" comes to The Old Globe to round out winter. The play centers around two carefree bachelors and their carefully hidden double lives, complete with wordplay and funny, unlikely situations. For tickets, click here.