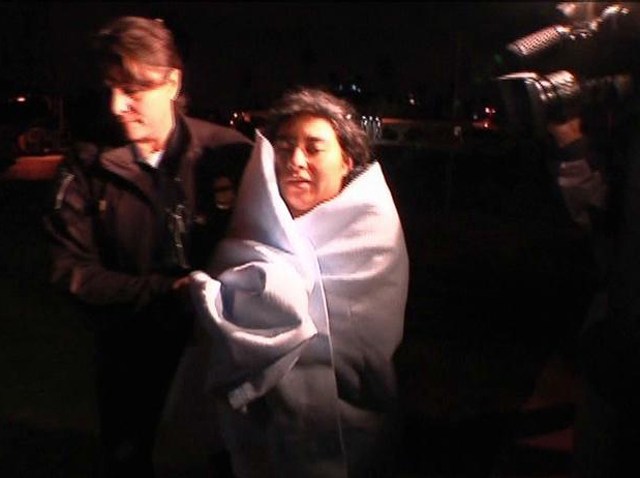 A woman, cold and pregnant, along with seven other Mexican Nationals were saved by a group of good Samaritans Friday after their boat capsized near Tijuana.

Three men, transporting a 42-foot yacht to San Diego via the Panama Canal, spotted what was left of a small fiberglass boat about 3 p.m. Steve Dewhurst, who works for a boat moving company based in London, said at first he thought it was a giant sea lion, but after a closer look, he realized the group was in trouble.

"They were just waving and screaming, waving and screaming," Dewhurst said.

A pregnant woman said she was on the boat, fishing with seven other men, when the boat capsized.

"Four of them were hypothermic, passed out. One of them had a really bad injury, and lost most of the flesh on his elbow. He said he had been bitten by something possibly," Dewhurst said.

Five of the men were taken to a hospital.

"They were in shock, they were cold. You could see they were just near enough at the end of it, a couple more hours, they wouldn't have been surviving," Paul Woodcock said.

The woman said the group was from Guerrero Negro -- hundreds of miles south of Tijuana.

"We don't know whether those people were on their way to come into the United States or whether they simply were going to stay in Mexico," U.S. Customs and Border Protection spokesperson Jackie Dizdul said.

Regardless, they're lucky to be alive -- thanks to some eagle-eyed good Samaritans.

"To come across people that are literally a couple of hours away from death, is quite extraordinary to be honest," Woodcock said.

The immigration status of the eight people pulled from the water has not yet been released.

Meanwhile, the good Samaritans will spend the weekend in San Diego, and head back to London on Tuesday with quite a story to tell.