The Poway Unified School District (PUSD) is holding a series of meetings with parents this month do discuss budget expenditures, and potential cuts.
The meetings are part of the way districts show the state they are getting input from local stakeholders about how money is spent.
But this year, there is something else being discussed at these meetings.
For PUSD, it is what to do about a potential $24.5 million budget shortfall over the next two school years.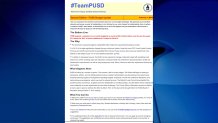 "I don't understand. We have the lottery. We've been doing all that," said grandparent Maureen Hobbs. "Why are the schools being cut?"
Part of the reason is Governor Jerry Brown's proposed budget in January cut guaranteed funding for schools. But the deficit could be less when Governor Brown issues his revised budget in May.
"We are doing the best we can with the numbers we have. Come May we are hopeful, but we don't think it will eliminate all cuts. We still have to trim our budgets," said district spokesperson Christine Paik. "In the meantime, there is a lot of concern and uncertainty."
Parents and grandparents said they wish cuts could be made elsewhere besides in education.
But if there is a shortfall when it comes to school spending, they said the cuts need to be smart cuts.
Right now the district will look at saving money through early retirements, attrition, and not refilling positions that are vacated. Cuts may also include trimming supplies, reducing travel and conference attendance.
"At this point, we have not discussed layoffs, but in the larger scope of things, I don't want to take anything off the table," Paik told NBC 7. "We like to reassure our staff though that we are doing everything we can to stay away from that."
But Hobbs said that's not where the cuts should be made.
"Teachers are the most important," she argued. "It's like fancy classrooms, fancy this or that, not so much. Teachers are extremely important. My daughter is a teacher."
Foundations that support schools are also being asked to backfill. Parent Heidi Nangle said she would help, but added there is a larger issue that needs to be resolved.
"I don't mind temporarily or when they are in need of different things. I think as a community we should come together and try to resolve it," Nangle said. "Definitely there is a problem when we are paying taxes that are high and it's not resolved."
Paik said parents should make sure their children attend school, because money is linked to attendance. Parents should also attend meetings being held this month to give the district feedback on how to deal with the budget challenge.
You can find information about meetings here.
"We are in this together and that's why public input is so important right now," Paik said. "How can we do this together?"
A spokesperson from the San Diego County Office of Education said many districts will find themselves dealing with possible budget cuts.
San Diego Unified School District said layoff notices in March are likely.