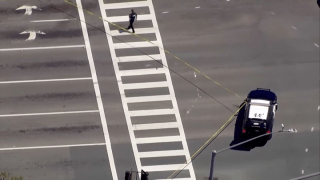 Two drivers stopped next to each other at an intersection and got out of their cars to fight Wednesday morning in Chula Vista, then one shot the other, according to police.
Police responded to the intersection of Olympic Parkway and Town Center Drive at around 10 a.m. after witnesses reported the shooting.
Evidence suggests two men got out of separate cars and began to fight in the street, according to the Chula Vista Police Department. During the fight, one man pulled out a gun and shot the other, then drove away.
The victim, a 34-year-old Chula Vista resident, also drove away and called 911, then stopped nearby to wait for medics, CVPD said. He was taken to a hospital and treated for non-life-threatening injuries.
Investigators say the suspect was last seen driving eastbound on Olympic Parkway. He was described only as an adult wearing dark clothing, and police don't have a description of his vehicle. He was still not caught as of 5 p.m. Wednesday.
Anyone with information asked to call CVPD at (619) 691-5151, contact San Diego County Crime Stoppers at (888) 580-8477 or submit an anonymous tip via P3tips (online or mobile application) http://p3tips.com/409.