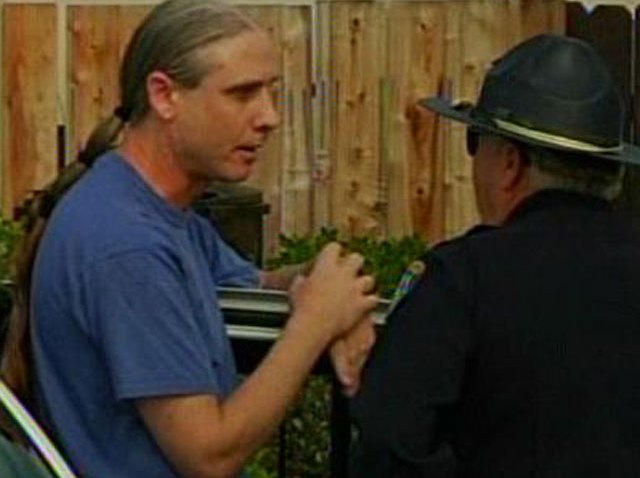 Brothers arguing over a family member who is critically ill prompted a 911 call by an out-of-town relative. When officers arrived to the family's Mira Mesa home, the family's dog rushed the front gate and was shot and killed by police.

San Diego police officers were called to the house on Squamish Road for a report of a domestic dispute.
A woman in New York called police when she was concerned that her brothers were fighting and a large stick may have been involved.
One brother, who identified himself by the name Michael, said the two were arguing about their father who had just been hospitalized with a congestive heart problem.
"I've been up all night so I come home, tell my brother what was going on. Arguments break out and one thing leads to another. People are overreacting. Someone overreacted," he said.

When officers arrived, and ordered the brothers out of the home, a 2-year old pit bull named Blue darted out and went directly for the K-9 officer who was controlling his dog, according to police.
"The front door was open and the gate to the front opened up and a pit bull ran, bolted out from the house and charged at the police officers that were out front," said SDPD Lt. Ken Hubbs.
"The officer had to fire right down on the pit bull to protect him and his dog," said Hubbs.
Blue died from the single gunshot wound.
"All it knew was to protect its family. It didn't know what was going on," said Michael, the dog's owner.
Immediately after hearing a gunshot, Michael said he was worried about his own safety.
"Don't kill my brother next. Don't kill me next. Because he had a phone in his hand and I had a phone in my hand. All these cops were right there with guns everywhere right around the place," he said.
Officers were investigating the scene and interviewing both men involved in the argument. No one was arrested.
Michael talked with officers after the shooting telling them, "You guys did what you did or whatever but all I've got to say is that's a good dog. That's a real dog because that's a loyal dog."