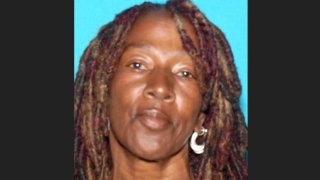 San Diego police said on Friday afternoon that they were looking for an at-risk San Diego woman.
Doris Ann Woods, 69, was last seen by a family member on Thursday in the 5600 block of Imperial Avenue, not far from the Valencia Parkway. She took a bus from there, police said, but never returned to her North Park home.
Woods suffers from lapses in memory, according to police. She was wearing dark blue pants with a light-blue design when she got on the bus.
Anybody with information about Woods's whereabouts is being urged to call police at 619-531-2000 and reference Case No. 21-500435.