New surveillance images released Tuesday appear to reveal three suspects connected to a string of house burglaries across San Diego County.
The images show a woman and two men who allegedly ransacked three residences in Del Cerro, La Mesa and Rancho Penasquitos last August, according to San Diego County Crime Stoppers. During the series of heists, the suspected thieves stole expensive jewelry and high-end purses.
In the first incident, a woman rang the doorbell of a house on Glenmont Street, near Marne Avenue in Del Cerro around 3:30 p.m. on Aug. 13. When nobody answered the door, two men smashed a sliding glass door in the back and broke in. Crime Stopper officials said the robbers stole several items.
Later that day, the trio of thieves struck again.
At 4:30 p.m., the same woman rang the doorbell of another house on Jackson Drive, near Zeta Street in La Mesa. Surveillance video shows the woman loitering by the door with her arms tightly crossed. Once the homeowner greets her, she asks, "Does Tony live here?"
After the homeowner told her she had the "wrong home," she thanked him and appeared to leave. But when the homeowner left his house and returned several hours later, he discovered the place was burglarized.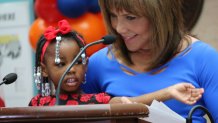 The robbers shattered his rear sliding glass door and went through three bedrooms, stealing more than $7,600 worth of jewelry and other items, said Crime Stoppers officials.
A few weeks later, the same group of robbers ransacked a house on Calderon Road, near Ellingham Street in Rancho Penasquitos on Aug. 29. At about 10 a.m., the suspects broke in by smashing another rear sliding glass door.
In that incident, they stole numerous high-end purses worth more than $10,000, according to San Diego Crime Stoppers.
Surveillance footage shows the woman appears to be in her 20's with a thin build, wearing large black-framed glasses and donning long fingernails painted bright green. She also sports a tattoo on her left forearm.
Crime Stopper officials said the male suspects are both in their 20's, about 5 feet, 8 inches tall with thin builds. They were spotted with a black Chrysler 200 with paper license plates, as well as a four-door white Mercedes.
Investigators from the San Diego Police Department and the La Mesa Police Department have asked the public to help identify and locate the suspects. San Diego County Crime Stoppers said a reward up to $1,000 is available for leads that help authorities arrest the culprits.