An hours-long manhunt came to an end Monday morning after a suspect accused of shooting and injuring an Escondido police officer was found dead of a self-inflicted wound.
The ordeal began at about 2:45 a.m. when Escondido police received a 911 call from a woman in an apartment in the 1300 block of Morning View Drive. The caller said the man allegedly involved in the disturbance was the father of their two children and that he had left with what she described as a black assault-type rifle. He was identified by police as Anastacio Rosas Jr., 29.
Police said the couple is believed to have shared the apartment.
"They have an on-again, off-again relationship," Escondido police Capt. Justin Murphy said at a news conference held Monday afternoon. "There was an argument regarding her coming to the apartment later than he anticipated and her being there…. There was some minor pushing in the apartment prior to him leaving. He pushed her out of the way to get out of the apartment as he was carrying the rifle out the door."
Murphy said there were children in the home when the argument took place, but that, "they were not injured. They were not part of this in any way, shape or form."
Shortly after 3 a.m., an Escondido Police Department officer allegedly made contact with Rosas at a dead end near Lincoln Avenue and Morning View Drive, about a quarter-mile away from the apartment where the 911 call had been placed
As the officers prepared to begin a traffic-stop style procedure, Rosas "quickly exited the driver's side door and fired at least one round at one of the police cars," Murphy said. "The bullet went through the driver's side door of the police car and struck the officer while he was still seated."
Murphy said he believed Rosas was only about 10 feet away from the officer's vehicle when he fired the shot from what officials described as an AR-15 style weapon. it's not yet known if Rosas had a permit for that type of gun.
"It was very fast," Murphy said. "The officers didn't even have time to pull their weapons."
Murphy said the officer, a 12-year veteran of EPD, was shot in the left buttock. He was taken to Palomar Medical Center, where he was treated and released. The officer is expected to make a full recovery, authorities said.
Rosas then fled on foot, according to Murphy, who said officers took cover and called it in: "Officer needs help."
The shooting prompted a large-scale response from law enforcement as officials searched for Rosas, deeming the suspect "armed and dangerous." Three SWAT teams aided in the search, Murphy said.
The manhunt led to a partial closure on eastbound state Route 78 with at least a dozen officers responding to the incident.
Northbound and southbound lanes of Interstate 15 to eastbound SR-78 were closed due to the manhunt, according to Caltrans San Diego.
Video footage of the scene showed authorities responding to the area of Centre City Parkway and Decatur Way, near the Escondido Police Department headquarters. El Norte Parkway and Escondido Boulevard were also impacted by the response.
At about 5 a.m., a police helicopter overhead announced authorities were searching for Rosas. At the scene, at least a dozen personnel could be seen, some carrying firearms. At around 6 a.m., police officers were focusing their investigation on a drainage canal along Centre City Parkway.
Around 7:45 a.m., though, a maintenance worker in an apartment building in the 700 block of West Lincoln Avenue confronted a man hiding in a vacant apartment, Murphy said. The worker notified a nearby deputy, and as deputies approached the building, they heard the sound of a single gunshot coming from the apartment.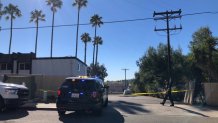 Authorities then sent in a robot to search the apartment and found Rosas dead from a self-inflicted gunshot wound, Murphy said.
"No officers fired their weapons during this incident," Murphy told reporters at the news conference.
Murphy said that Rosas did not have a serious criminal record, "one misdemeanor conviction and that's about it."
Officials said there was no further danger to the public.
One neighbor told NBC 7 that he heard the whole thing.
"I heard I guess a bunch of racket outside so I got out and came to knock on any door and I heard a gunshot so then I started looking around and then everything took off," said Escondido resident Steven Harrell. "There were cops everywhere. SWAT team was going around telling you to stay in your house and just don't come outside right now."
The officer who was shot was hospitalized and remains in serious condition. He is, however, expected to survive, authorities said. The officer has not yet been identified by the police department.
The investigation is ongoing. Anyone with more information on the shooting is encouraged to contact the Escondido Police Department at (760) 839-4722. Anonymous tips can be made by contacting (760) 743-8477.
---
If you or someone you know is at risk of suicide please call the U.S. National Suicide Prevention Lifeline at 800-273-8255, text TALK to 741741 or go to SpeakingOfSuicide.com/resources for additional resources.