San Diego is in mourning, remembering our hometown hero and arguably most recognizable local celebrity former Chargers Pro Bowler Junior Seau.
Seau, 43, was found dead of a self-inflicted gunshot wound inside his Oceanside home Wednesday officials confirmed.
The Medical Examiner's office confirmed on Thursday that Seau committed suicide.
Complete Coverage in our Special Section: Junior Seau 1969-2012
The news surfaced after a woman, who officials said identified herself as Junior Seau's girlfriend, called 911 at approximately 9:30 a.m. to report a shooting.
She had found Seau in one of the bedrooms of the NFL player's home on South Strand Boulevard with a gunshot wound to the chest.
A handgun was found next to Seau's body however no suicide note was found according to Oceanside police.
Police Chief Frank McCoy confirmed the case will be investigated as a suicide.
That announcement led to gasps in the crowd of approximately 250 people standing outside the home.
Read: Insight into Seau's Final Hours
Family members and friends had been gathering in the driveway of the home, hugging and crying throughout the morning.
They included the Oceanside High School alum's parents, Tianina and Luisa Seau.
Seau's mother, obviously very emotional and in the arms of the family's pastor, spoke outside the home.
She looked up to the sky and screamed Junior's name.
I don't understand," Luisa Seau told the bank of television cameras and crowds of fans who had gathered along the bike path next to the shore. "I don't know anything."
People in the crowd shouted "We love you Mrs. Seau!"
Seau's sister asked the media to give the family, and her famous brother, some privacy.
"My brother was a loving brother, a caring citizen. I just wish you guys would just honor his last day and give him some privacy," said his sister, Annette.
Chief McCoy recognized the cumulative grief felt by residents in his community when he said, "Our hearts and prayers as a city go out to the Seau family.
A police escort followed the medical examiner's van as it carried Seau's body through the streets of Oceanside.
When the van first pulled away from the home, fans in the crowed yelled out "We love you Junior!" and "Rest in Peace."
"Junior was Superman to us," Miles McPherson, a former Charger and the pastor of Rock Church in San Diego said.
Across town at the Chargers Murphy Canyon training facility, team owner Dean Spanos told NBCSanDiego he was "stunned, shocked" and sent his condolences to Seau's family.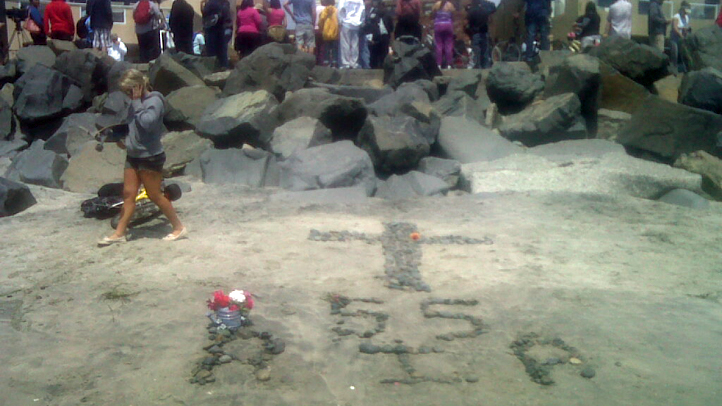 "He was all football, he was such a great leader, such a great mentor for so many people," said Chargers head coach Norv Turner.
"This one's hard and it's going to take a long time to get over."
Former Charger and NBC 7 Sports Director Jim Laslavic said he couldn't believe Seau was gone.
"He has done so much good for so many people," said Laslavic. "Junior touched a lot of lives."
Laz was so emotional after hearing the news he wasn't sure he could talk.
"He had a passion for his game, had a passion for his family and had a passion for his community," Laz said.
After hearing the news, former Charger LaDainian Tomlinson said he learned how to be a pro football player from Seau.
"He's an icon I looked up to my entire life before I got to San Diego. Even to this day. It's a numb feeling in my heart right now," Tomlinson said.
Seau's children attend Bishops School in La Jolla and were pulled out of class as soon as the news started to spread according to two seniors who spoke to NBCSanDiego.
Head master Aimeclaire Roche pulled the school's 700 students into an assembly at noon and asked them to respect the family's privacy.
For reactions from friends, teammates and fans, read our collection of social media responses here.

Seau became a Charger in 1990 and was voted to 12 consecutive Pro Bowls from 1991 to 2002.
The former Charger averaged 100 tackles a season and nearly seven tackles per game during his 17-year career, according the NFL.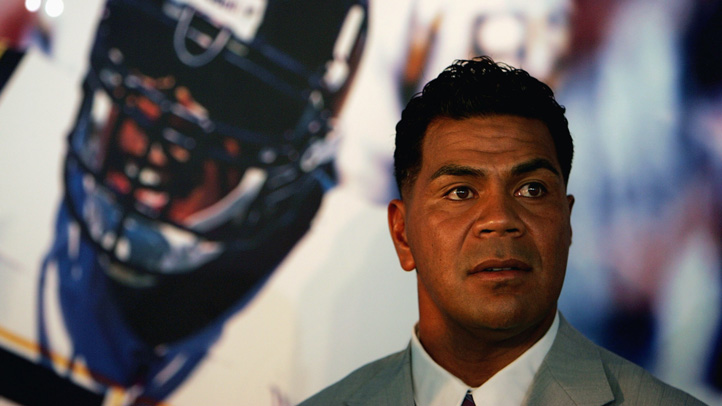 The former Charger got his start at Oceanside High School, where he played football as a linebacker. Seau then became a star linebacker at the University of Southern California before he playing for the Chargers. He was with the Chargers until 2003, and then played for the Miami Dolphins and the New England Patriots.
He retired from football in 2009, according to the NFL.
Seau continued to be a major part of the Charger culture after his retirement from football.
He opened a restaurant in Mission Valley called "Seau's The Restaurant" in 1996 and it has been a destination on game day for the last 16 years.
The restaurant, decorated in the Charger's Bolt blue and gold, is located at Westfield Shopping Town on 1640 Camino Del Rio North and is a testament to Seau's career in the NFL.
Each year, Seau would hold a Thanksgiving dinner there for the homeless.
Gordon Watt, a homeless San Diegan, said he met Seau at a Thanksgiving dinner at Seau's restaurant in Mission Valley.

"He asked me what do you need," he said. "Then went to Target and bought me these gloves and he was just the most kind person in the world. I can't think of anyone who was better than him."
Watt wears those gloves to this day.
The official Chargers Twitter account initially sent this post, "We don't have any information right now on the Junior Seau situation. We pray he's ok." Then, once the news was confirmed, they announced a previously scheduled news conference with head coach Norv Turner has been canceled.
In October 2010, Seau sustained injuries when his SUV crashed at the bottom of a Carlsbad cliff.
Oceanside police arrested Seau on a felony domestic violence charge. Prosecutors declined to press charges.
Then, hours after his release from custody, Seau was found behind the wheel of an SUV that had crashed over a cliff onto the beach below.
Seau said he had fallen asleep behind the wheel.
On Wednesday night, Seau's family released a new statement, asking the public for prayers.
"We ask that you continue to pray for our family during this time as we will continue to pray for those Junior has touched. God bless the Seau family."
On Thursday, Seau's brother told NBC 7 San Diego that funeral services for Seau's family and friends would be held on Friday, May 11, at the New Venture Church in Oceanside. A public service will follow on Saturday, May 12, at Oceanside High School.
Follow NBCSanDiego for the latest news, weather, and events: iPad App | iPhone App | Android App | Facebook | Twitter | Google+ | Instagram | RSS | Text Alerts | Email Alerts