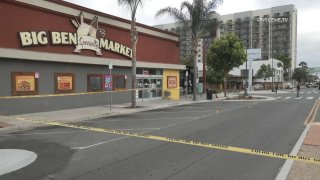 National City Police Department officers have arrested a suspect in connection with a fatal stabbing that occurred outside of Big Ben Market in National City Saturday afternoon, according to NCPD Lt. Derek Aydelotte.
Police officers were first notified of a stabbing that took place outside the market located at 108 East 8th St. around noon. Shortly after, authorities were notified that someone had been run over close to a nearby Union Bank.
Officers found a 52-year-old male in the bank parking lot with two stab wounds and signs of being hit by a vehicle, said Lt. Derek Aydelotte.
Personnel transported the man to a trauma center where he received life-saving efforts, but he succumbed to his injuries, officials said. Police have identified the victim but have not yet released his name, pending notification of his next of kin.
Several hours later, officers stopped and detained suspect Thornell Brown, 54, in National City, authorities said. Brown will be booked in county jail for murder. No outstanding suspects remain, officials said.
Officials are still investigating the incident as it is not yet known what led up to the stabbing and hit-and-run.
Anyone who may have information or evidence related to the incident can submit tips anonymously through Crime Stoppers at 888-580-TIPS.