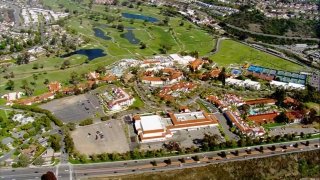 Guests and employees of the Omni La Costa Resort in Carlsbad were evacueated Monday as police investigated a bomb threat that was later determined to be fals, according to the Carlsbad Police Department.
A Carlsbad Police Department spokesperson said officers responded to the resort at 2100 Costa Del Mar Road at around 4:15 p.m. out of an abundance of caution.
"Using an abundance of caution, and the prescribed protocol, we are investigating a bomb threat based on a suspicious phone call to the property," CPD spokesperson Jodee Sasway Reyes said.
CPD tweeted the same statement, and asked the public to avoid the area.
An employee at the resort said police asked her and others to evacuate the property. SkyRanger 7 flew overhead and spotted dozens of people waiting outside with police cars lining the roads of the resort.
At around 7:40 p.m., CPD said in a tweet that the threat was found to be false and allowed guests and employees to re-enter their buildings.
CPD said it was still investigating the origin of the threat.
The Carlsbad Fire Department also responded
No other information was available.
Check back for updates on this developing story.