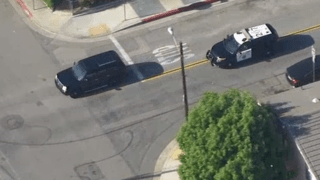 The California Highway Patrol was in pursuit of a black SUV in the East Los Angeles and Commerce areas Tuesday.
Newschopper4 Alpha was over the chase around 5:15 p.m in the city of Commerce, coming from the East LA area.
The driver continued on surface streets and was stopping at stop signs, moving westward towards the downtown LA area.
Around 5:30, the driver was in the Skid Row area.
It was not immediately clear what led to the pursuit.
Please check back for updates.