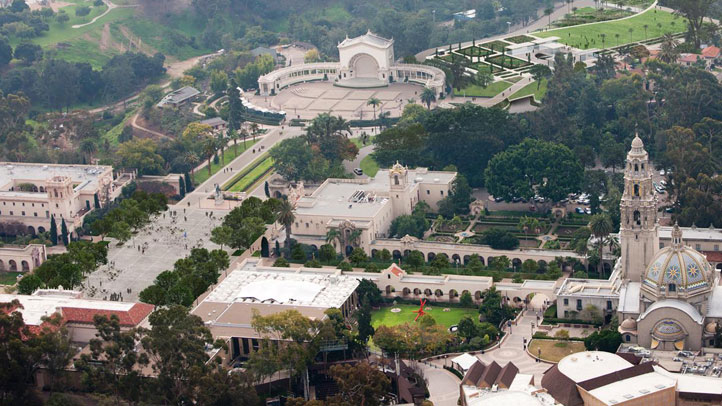 After months of roadblocks and controversy surrounding Balboa Park, Dr. Irwin Jacobs unveiled detailed plans of Plaza de Panama renovations on Monday morning.

"Ideas from the public on the early stages helped shape this project," Mayor Jerry Sanders said before introducing Jacobs.
The plan hopes to rid vehicles from the park center and turn it into a pedestrian-friendly space.

Video showed a bridge titled "Centennial Bridge," as the main feature of the plan. Historic Cabrillo Bridge would remain intact, but the additional bridge would direct traffic around the park area. Trees would be planted around the bridge to keep it relatively camouflaged.

Centennial Bridge would connect to the east end of the Cabrillo Bridge, right before the arches near the Museum of Man building. It would then connect to the Alcazar parking lot, which would be redesigned for disabled and valet parking.

From there, Centennial Road would continue to a proposed underground parking lot that would have up to 800 spots. The existing lot would then be transformed into a park. There are currently fewer than 100 parking spots available in Plaza de Panama.

Opponents of the plan argue that it destroys the historical integrity of the park. Bruce Coons, executive director of the preservation group Save Our Heritage Organisation, said he thinks there are multiple problems with the proposed renovations.

"We have quite a few issues with the project," Coons said. "It's the most destructive project that's been planned for Balboa Park for over 50 years."

Other concerns are paid parking, tree removal and any destruction of a historic landmark.

Alternative plans had been considered as many people submitted their own proposals, said Jacobs.

"The city has gone through all of them, and given those that they want a very detailed analysis performed to us," he said.

He did not specify whether or not those plans would be taken into serious consideration.

Jacobs said he hopes the project will be completed in time for the 2015 centennial celebration. Fundraising efforts will become more active now as the timeline is limited to a little more than three years.

The project will rely exclusively on private donations and bonds. So far, the price tag is roughly $40 million.
Video from the Plaza de Panama project has digital rendering of Centennial Bridge.