For Playwright Mat Smart, having his new play "Kill Local" world premiere at the La Jolla Playhouse this fall feels like a homecoming, more than a decade later.
It's been 13 years since Smart graduated from the University of California, San Diego (UCSD)'s graduate theater program. The program helped him find his voice as a playwright, he said, for the first time.
"I really feel like I found my voice, here, through the tutelage of my professors, and my peers, and doing a play each year," he said.
Now, Smart -- an award-winning playwright -- will premiere his latest play, "Kill Local", at the Playhouse for the first time since leaving the school.
"Kill Local" follows the lives of a mother and her two daughters running their own family business: assassinations. The play stars Matthew Amendt, Carolyn Braver, Candy Buckley, Amanda Quaid and Xochitl Romero.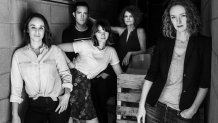 The idea for the piece first came to Smart in the form of an opening scene, he said.
"Honestly, I just always wanted to start a play with a guy tied to a chair and a woman with a gun," Smart said. "That's where it started, that's where the first scene starts, and then I just ran with it."
Most of his previous work centers around family- or relationship-orientated scenes in quiet, intimate dramas. This time around, with "Kill Local", Smart said, he wanted to try something completely different.
"I just decided to embrace this idea of a family of assassins and it's really violent and really brutal, but also really funny," Smart said.
The piece was developed at the Playhouse's DNA New Work Series in December, the same process that "Miss You Like Hell," "The Last Tiger in Haiti" and other Playhouse pieces went through.
When he first workshopped the play at the series, Smart said, he had not changed anything in the play for a year. The process allowed him to come back and re-work the piece.
"It really allowed me to come back and look at it with fresh eyes, and really just dive deeper into it," Smart explained. "I think to make it more brutal and more dark, but also more funny and also more serious at the same time."

At the heart of the play is a question about identity, and whether an individual's identity can change, Smart said.
"The thing that really resonates with me about the question the play is asking is, do we have an essential self? Do we have a way that we are that can change, or that doesn't change?" Smart said.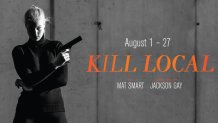 "It's somewhat of a nature versus nurture question, but mostly, if we're doing something with our lives that we stop getting as much joy from, can we change? Can we be happy doing something else, or is there something essential that is unmovable to us?" Smart added.
The question is answered in different ways for different characters throughout the play, Smart said. He thinks audiences will be surprised in the ways in which they will connect with the play.
"I think if anyone has ever questioned or doubted what they do, and if they want to make a change, hopefully, they will have a way into the play," Smart said.
Having "Kill Local" world premiere at the Playhouse feels like a unique homecoming, a fun way to return home, Smart said.
"It's just fun to come back and be trying something new but very much in my own voice," Smart said. "This is where I found myself as a writer and so it's exciting to try something new here."
"Kill Local" runs at La Jolla Playhouse from Aug. 1 to 27. The play contained graphic violence and strong language. For tickets, click here or call (858) 550-1010.