Faced with a daunting crisis, San Diegans are finding creative ways to lend support. Have you heard about a story we should share? Let us know -- Ed.
________________________________________________________________________________
Grammy Winner Jason Mraz Joins SD Symphony for COVID-Friendly Holiday Concert
Mr. A-Z has a busy holiday season planned: The San Diego Symphony, which wishes everyone a Noel Noel on the regular with its annual concerts of the same name, enlists Grammy-winner/local avocado farmer Jason Mraz to narrate this year's streaming version of its holiday classic.
Even better news is the price: FREE.
The concert kicks off Dec. 18 at 7 p.m. and will also feature a host of special guests, including conductor Timothy Semanik, musical artist Storm Lever and actor Scott Rad Brown -- who will divvy up hosting duties -- as well as the San Diego Children's Choir, San Diego Master Chorale and Reka Gyulai, principal dancer of the California Ballet.
"In a time when so little feels normal, we recognize how important it is to create moments of joy during this holiday season," San Diego Symphony CEO Martha Gilmer said in a news release sent out Thursday, adding, "[while] we all obey the stay-at-home orders to collectively overcome COVID-19, we can all unite in experiencing some holiday musical cheer and look forward to being together again in the near future." -- Eric S. Page, December 11, 2020
________________________________________________________________________________
Hear That? It's the Sound of Musicians Eating for Free
Next Monday, 100 local musicians will be getting that unicorn of meals -- there is such a thing as a free lunch* -- served up in Ocean Beach while they take in a killer view.
Skrewball Peanut Butter Whiskey, which is owned by the same folks who brought you OB Noodle House and The Holding Company, is teaming up with the staff at THC to provide the free meals to local artists -- members of what is certainly one of the hardest-hit sectors of the economy.
Due to California's public health order, no live entertainment of any kind (well, maybe strip clubs) is permissible during the coronavirus crisis.
Enter Skrewball: "We are all in this together, and although musicians are unable to perform, we are thinking of them and want to offer our support," the Holding Company posted on its Instagram account. -- Eric S. Page, November 11, 2020
________________________________________________________________________________
What It's Like to Volunteer for Coronavirus Vaccine
A vaccine is one of the surest ways of stopping the coronavirus pandemic. Unfortunately, they take time to develop and require a lot of tests. Companies and governments around the world are testing at least 120 potential vaccines. One of the test subjects is a local scientist.
"I'm a human guinea pig in a sense," said Dr. Carl Ware, an Immunologist and Researcher at Sanford Burnham Prebys Medical Discovery Institute. "I joined the trial a little over a month ago, got my first shot. Yesterday, I went in got my second shot."
Ware isn't your typical test subject. As an immunologist he studies how the body fights and controls infections, and even helps study and develop drugs to help the body fight them off. He says he didn't think twice about signing up for the trial.
The experimental vaccine he is taking does not contain any coronavirus, so he felt it was safe. Instead, it contains a small protein that the virus uses to infect cells. As a member of the trial, he reports any potential symptoms daily and will have his blood taken in six months. -- Consumer Bob and Nicholas Kjeldgaard, October 9, 2020
________________________________________________________________________________
Local Artists Get Creative to Stop the Spread of COVID
Out of work due to the pandemic and in need of a creative outlet, local artists are coming together to send an important message.
"You can be creative, you can do things, just wear your mask," said photographer Ken Jacques. "Stop the spread."
Jacques works with more than a dozen theaters across San Diego, all of which have been closed since the shutdown in March.
All the spring shows were getting ready to open, Jacques said. "All the shows we'd been working on to get prepped – gone."
The closures left numerous actors, dancers, singers, musicians and other artists like Jacques without jobs.
"Our jobs are just not there for us to go back to," costume designer Janet Pitcher said.
With the theatres closed, Pitcher turned her talents to making masks for medical workers.
"After donating hundreds of them, people wanted to buy them. So, that's where this started," Pitcher said.
Jacques and Pitcher have teamed up for a campaign to encourage people to wear their masks.
San Diego Artists Helping to Stop the Spread features photos of local performing artists wearing Pitcher's masks in iconic locations around America's Finest City. -- Audra Stafford, September 25, 2020
________________________________________________________________________________
SD Humane Society Receives Van of Food For County Pets
Animal care nonprofits GreaterGood.org and Operation Blankets of Love arrived at the San Diego Humane Society today with a van filled with canned dog food and other supplies to help community members struggling during the COVID-19 pandemic.
The society offers safety net services that provide families with supplies to help them keep their pets. Since the pandemic began, its campus locations have been open for pet food distributions through its Community Pet Pantry.
"San Diego Humane Society could not help as many members of our community without our partnership with GreaterGood.org," said Gary Weitzman, president and CEO of San Diego Humane Society. "We appreciate their continued support and coordination with Operation Blankets of Love to make a donation of pet food that will ultimately keep more animals with their families."
SDHS has also partnered with the Jacobs & Cushman San Diego Food Bank, San Diego Unified School District and other human service groups to make pet food available at their distribution sites. Pet food has also been distributed to SDHS's dog and cat rescue partners for the pets in their care. -- September 16, 2020
________________________________________________________________________________
Teens' Groceries for Seniors Program Proves Some Good Has Come Out of the Pandemic
Emily Fuster and Alex Chen had a shopping list ready to go as they walked into the Pacific Beach Vons.
They aren't shopping for themselves. They're shopping for someone they've never met.
"Our goal is to deliver contactless groceries to seniors," said Chen.
"I knew that at the onset of COVID there would be so many vulnerable residents in our community," explained Fuster.
Both are with a new group called Teens Helping Seniors. It's a nationwide effort founded in Maryland to get teenagers to deliver groceries, medications, and supplies to people who cannot or should not be leaving home during a pandemic. -- Joe Little, August 13, 2020
________________________________________________________________________________
Rock Church in City Heights Gives Groceries to Locals Impacted by COVID-19 Crisis
As many San Diegans struggle with financial hardship amid the coronavirus pandemic, some locals got a little help Thursday at a large-scale donation drive-thru in City Heights hosted by the Rock Church.
The distribution event began at noon at the Rock Church's City Heights campus at 4001 El Cajon Blvd. Locals in need were able to pick up groceries, diapers, and other household items. The event was free and open to all.
Rock Church told NBC 7 that they were able to distribute over 3,300 pounds of food and helped 200 households on Thursday. -- August 13, 2020
________________________________________________________________________________
Mask Business Sets Up 'Virtual Tip Jar' to Benefit Restaurant Workers
Tip Jar Masks, a startup that sells cloth face masks, is helping restaurant staff that has been adversely affected during required pandemic restrictions.
When someone purchases a mask, $3 is donated to the charity of their choosing via a virtual "tip jar." That charity then helps furloughed waiters and bar staff, according to the company's press release.
The charities receiving the donations are located around the county, including the Golden Rule Charity in San Diego. -- Jackie Crea, August 8, 2020
________________________________________________________________________________
'Gotta Do Your Part': Family Signs Up to Donate Plasma After COVID-19 Recoveries
Three family members who have recovered from COVID-19 after being diagnosed in May have signed up to donate convalescent plasma in hopes that the antibodies located inside can help others recover from COVID-19, too.
Amanda and Juan Almaraz, and Amanda's father Frank Puron, tested positive for the disease caused by the novel coronavirus in May and while the couple's symptoms were mild to non-existent, Puron's were more severe.
The blood of recovered COVID-19 patients can develop antibodies that -- when transfused to sick patients -- could help others recover from the disease that causes severe respiratory symptoms.
While using convalescent plasma to treat severe cases of COVID-19 is still experimental, the U.S. Food and Drug Administration approved its use on March due to encouraging results in some patients. This allowed doctors to use plasma under an emergency approval system. Doctors can apply to the FDA to use it for their patients, and the agency will review the requests quickly and make decisions on a case-by-case basis.
So, the three family members signed up do donate their plasma. On Friday, Puron donated while Amanda and Juan Almaraz will donate at a later date. -- Christina Bravo • Published August 7, 2020
________________________________________________________________________________
Saucy Concert Series Helps out Pandemic-Silenced Musicians
San Diego's Cutwater Spirits distillery is finding a way to pitch in during the pandemic: The company will offer free lunch to support locals in the restaurant and bar industries impacted by the COVID-19 crisis.
Cutwater plans to host a free, curbside food pick-up at its Cutwater Spirits Tasting Room & Kitchen this Saturday in Miramar. The event runs from 11:30 a.m. to 1:30 p.m.
Those who work in the restaurant and bar industry can sign up for the event here. Proof of industry association will be required, and that can include something like an old paystub, a business card, or even "a photo of them on their phone in action on the job." -- Monica Garske, August 4, 2020
________________________________________________________________________________
Saucy Concert Series Helps out Pandemic-Silenced Musicians
The Carlsbad locals famous for producing the Bitchin' Sauce brand of tasty dip/sauce/spread/hummus have now got you covered if you're a music fan, too.
The Carlsbad locals famous for producing the Bitchin' Sauce brand of tasty dip/sauce/spread/hummus have now got you covered if you're a music fan, too.
Company co-founder L.A. Edwards is a musician himself (he's opened for such artists as the Beach Boys and Jefferson Starship), so it was only natural for Bitchin' Sauce to help out pandemic-challenged musicians like the Grammy-winner Lucinda Williams and the White Buffalo (another one of Edwards tourmates), using its Instagram account to livestream concerts, starting in June, while also helping the artists out financially as well. -- Eric S. Page, July 30, 2020
________________________________________________________________________________
Volunteers Deliver Groceries to Patients Battling Cancer
"We're picking up groceries that have been prepared for a cancer patient who is best if they stay at home," continued Sessions.
The volunteers usually help all year long with fundraisers supported by the San Diego Padres, including the annual Padres Pedal the Cause to support cancer patients and research.
However, the coronavirus pandemic has derailed many of their opportunities to volunteer. So, the Padres Volunteer Team has taken up a new calling: Delivering groceries to cancer patients.
"It makes me feel grateful that I am able to help somebody that can't go out," said Harkness.
The program is called Groceries 4 Good. Groceries are purchased thanks to generous support from the San Diego Padres, the Susan G. Komen Foundation, U.S. Bank, and Albertsons and Vons. -- Joe Little, July 16, 2020
________________________________________________________________________________
Over 100K Books Donated to Help San Diego Kids Read During Pandemic
Three freight trucks with over 100,000 new children's books were donated Wednesday as part of an effort to get books into the hands of San Diego kids for the summer during this COVID-19 pandemic.
A total of 106,000 children's books were delivered to The Arc of San Diego, a nonprofit human-service agency, as part of The Great San Diego Book Giveaway, made possible by a $1 million donation worth of books from the Molina Foundation.
"COVID-19 has highlighted deep inequities in distance learning for kids across San Diego County, many of whom have no access to the internet or computers and have no books at home. This multi-agency collaboration is about delivering books into the hands of children in San Diego who need them at this time," said Jose Cruz, CEO of the San Diego Council on Literacy. --Brenda Gregorio-Nieto, July 1, 2020
________________________________________________________________________________
Need a Free Face Mask? Mad Engine Has You Covered
Hey, San Diego, you might want to start lining up now: Mad Engine, the locally based apparel/accessory company with global reach plans on handing out 250,000 free masks to locals.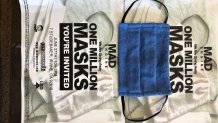 The giveaway is taking place Saturday for four hours, kicking off at 10 a.m. at Mad Engine's corporate headquarters at 6740 Cobra Way in Mira Mesa, as well as at a second location, in Irvine, California. Just to be clear -- these are not surgical masks; they're just the nonmedical fabric face-coverings us norms are sporting these days.
The big mask deal is actually bigger: In total, Mad Engine says its target is a million-mask giveaway. It won't be handing out all those on Saturday, of course -- representatives of charities or other organizations seeking masks for "frontline, essential workers and others that have a need" can put in a request at goodworks@madengine.com. -- Eric S. Page, June 25, 2020
________________________________________________________________________________
San Diego Pride to Give Out $30,000 to LGBTQ Food Industry Workers
San Diego Pride announced today that it will give out $30,000 in gift cards to local food and drink industry employees as part of its Pride Grocery Relief Fund for LGBTQ Bar and Restaurant Workers.
Three hundred $100 grocery gift cards are being distributed to the employees who have been financially impacted due to COVID-19 shutdowns.
"Our LGBTQ bar and restaurant workers are a precious resource to our LGBTQ community," San Diego Pride Director of Philanthropy Sarafina Scapicchio said. -- June 17, 2020
________________________________________________________________________________
Local Sunglasses Company Donates Safety Goggles for San Diego Firefighters
Many companies have switched gears to help in any way they can during the coronavirus pandemic, and sunglasses maker Knockaround is no exception.
The local sunglasses company donated 5,000 safety goggles to San Diego Fire-Rescue on Thursday. Knockaround CEO Adam Moyer said he noticed the city's website said they were in need of the goggles, so he put his team to work.
"We just wanted to help out the community. It's the easiest thing for us to do because we're a sunglasses company. We already have all the eyewear contacts," Moyer said. "Lots of local businesses are doing whatever they can, whether it's making food for health care workers, or whatever it is their company specializes in." -- Selena Alvarado, May 28, 2020
________________________________________________________________________________
San Diego Woman Inspired to 'Pay It Forward'
San Diego chiropractor Kaci Madden says she was inspired by the movie "Pay It Forward" to do her small part during the pandemic.
For the past six weeks, Madden has been going to small local businesses and opening a $100 tab, then sharing the business' name on her social media and encouraging her followers to support the local business, paying forward the tab if they can.
"I just really resonated always with the idea of, like, the ripple effect, when you do something and it just causes massive changes, even if it's just a small little thing," Madden said.
On Friday, she opened a tab at the Corner House Cafe & Pizzeria in Sorrento Valley. The owner, Kiu Pour, said he's owned the business for 20 years and has lost 75 percent of his profits during the pandemic. He said that it's because of loyal customers like Madden that he's able to keep his business alive.
"It's not the money that you put in, it's just the thought behind it that counts -- that somebody out there really cares -- and it just makes you feel good," he said.
Madden said she hopes people will feel love through her efforts. -- Priya Sridhar, May 22, 2020
________________________________________________________________________________
Escondido Girl, 10, Shares 'Bucket Full of Kindness' With Neighbors and Friends
An elementary school student in Escondido, California, is using buckets filled with small, simple treats to carry a message of kindness across her community during these difficult days of the coronavirus pandemic.
About three weeks ago Sylvia, a 10-year-old student at Richmond Elementary School, started a project she calls "A Bucket Full of Kindness."
Sylvia and her mom, Marie Huszarik, bought some plastic buckets and filled them with a few items such as candy, snacks, bubble wands, glow sticks, and puzzles. For a tiny bit of humor, they added a roll of toilet paper to the bottom of the buckets. It was a collection of items that might be nice to have for people staying at home under California's coronavirus pandemic guidelines. -- Monica Garske, May 20, 2020
________________________________________________________________________________
National City Restaurant Owner Pays it Forward to Front-Line Workers
There are a lot of feet standing on the front line against the coronavirus.
Tuesday, a National City Mexican restaurant owner said thank you to all of them by picking up the tab for every doctor, nurse, and first responder who showed up for breakfast and lunch.
"I want to give back a little bit," said Jose Luis Navarro, who has owned El Nuevo Milenio for more than 25 years. "I've been helped by first responders."
Navarro said a few years ago he spent three days in the intensive care unit at Sharp Chula Vista Medical Center. He vividly remembered the care he received from Juan Hernandez in particular. -- Joe Little , May 19, 2020
________________________________________________________________________________
There's Enough Food for Everyone
For a lot of families, food is one of the biggest challenges of the pandemic. Food banks are stretched thin as families forced out of work continue to try to make ends meet. But according to one San Diego woman, there's plenty of food for everyone.
"One of the things we are learning in this pandemic is that a lot of our systems don't work," said Nita Kurmins Gilson. "It's not that there isn't enough food. It's getting the food to the people who need it."
Kurmins Gilson says 40% of all food in the U.S. is wasted. That's part of what inspired her to start the local nonprofit, Produce Good.
The group works with properties around San Diego County growing fruits and vegetables that otherwise would not be harvested for a variety of reasons.
Kurmins Gilson and her volunteers pick that produce and then get it to the food banks and organizations that can get it to the people who need it most.
It's a process called gleaning.
Kurmins Gilson first started doing it a decade ago. So, when the coronavirus pandemic hit, she was fully prepared to help. She said the group has harvested 8,000 pounds of produce a week since the start of the stay at home order. -- Greg Bledsoe, May 19, 2020
________________________________________________________________________________
Health Care Worker Creates Alley Food Pantry to Help Community
A health care worker started a pantry to help her community near La Mesa.
Lisa Spano works at Scripps Mercy Hospital in the emergency room department, and she's also six months pregnant. She's been incredibly busy these last few months with work, but she still wanted to find a way to help her neighbors, as well.
She, along with her husband, designed an alley pantry and it's proven to be a great thing for her community. -- Ashley Matthews, May 8, 2020
________________________________________________________________________________
Grocery Grab: North County Teens Step Up to Help Elderly Neighbors
Nolan Mejia, 16, used to lend an occasional helping hand to his mom at the grocery store, but these days, he is the veteran shopper of the family.
Mejia navigates North County supermarket aisles with ease and sometimes makes four trips a day.
"I definitely know all the stores better because I got to different stores all across Carlsbad," said Mejia, a student at Sage Creek High School.
Mejia and a group of friends started "Grocery Grab" back in March as a way to help senior citizens in the North County and have spent every day since making grocery runs.
But, unlike Instacart or other commercial delivery companies, the teenagers don't charge for their services, only the grocery bill. Steven Luke, May 6, 2020
________________________________________________________________________________
Bar Owner Uses Struggling Family Business To Help Feed Others in Need
Something is going on inside Players Sports Bar and Grill in San Marcos.
Gone are the big cheers that come with fans watching big sporting events. Gone are the friends and neighbors grabbing a drink at the bar. Gone are most of the customers.
Ted Semprini says he's lost about 90 percent of business at his bar and grill, a place that many people in San Marcos call a hub of the neighborhood.
"My mailbox is still full of bills. Everybody is still looking to get their payments, you know." said Semprini, who has co-owned Players for nine years. "I'm extremely worried."
But despite the lack of customers, there is still a buzz around the sports bar; it's lunchtime and the phone is ringing for takeout orders, but there is something else going on inside here.
The place is filled with volunteers from the non-profit, Stay Home SD, an organization founded in March to deliver groceries to seniors over 65 around San Diego County.
And while Semprini has concerns about his own business, he jumped at the chance to help when he was approached about using his storage and cooler space as a distribution center for the organization. -- Ismael Estrada, Mark Mullen and Scott Baird. May 5, 2020
________________________________________________________________________________
Selling Branded T-Shirts to Help Local Restaurants During Pandemic
Even popular restaurants like Little Italy's "The Crack Shack" have hit hard economic times, restricted to takeout and delivery orders during the coronavirus pandemic.
"We were forced to furlough some people and we were forced to close our doors," said Nicole Rogers, The Crack Shack's marketing director.
It has been over a month since San Diego County issued its public health orders, closing dine-in services at restaurants and ordering people to socially distance as much as possible.
When the health order came down, the restaurant knew they needed to come up with something relevant but also on-brand -- the restaurant is known among fans for its fun outdoor vibe and cheeky branding.
They found the owner of a local T-shirt company who, remembering his time as a restaurant worker, went looking for ways to help small businesses through these tough times.
Partnering with Uri Bialostozky, owner and CEO of Wallatees, they designed a T-shirt and made sure to include some chicken-related decor. -- Gaby Rodriguez and Sophia McCullough, April 26, 2020
________________________________________________________________________________
Rocker Turns Rescuer for Those Affected by Pandemic
In tumultuous times, Mr. Rogers famously recounted a story about his mother. "When I was a boy and I would see scary things in the news, my mother would say to me, 'Look for the helpers. You will always find people who are helping.'"
Sometimes the helpers come in the most unexpected packages, like in the form of a bristly bar doorman.
If you've ever been to Tower Bar, Soda Bar or the Til-Two Club in San Diego, chances are at some point Ryan Foxe was working security, asking for your ID, all while throwing in a little wisecrack or snarky comment just for good measure. Foxe is also the legendary frontman of bands like Fishwife, Ghetto Blaster and the Grids, known for his wild stage antics, boundless energy, karate high-kicks and some nudity from time to time, for good measure.
But what people really need to know about Foxe is that he is a kind and generous person and a beloved figure of the San Diego music scene.
And, he is, truly, one of the helpers.
The same guy who wrote in a December Facebook post, "'Be Good, for Goodness Sake.' That's not really much of an incentive," is the same guy who posted on March 29, "If you are sick and in San Diego, PM me and I'll get you what you need, to get you through it." Like a little hedgehog, Foxe maintains that prickly persona while showing his truly sensitive insides.
Even before state quarantine guidelines were issued, Foxe was collecting goods. Not to hoard but to distribute among friends and family, and even strangers, who were struggling and in need; those with compromised health, people who live alone, people who lost work in the underground economy and may not otherwise qualify for immediate aid or assistance. -- Rosemary Bystrak, April 25, 2020
________________________________________________________________________________
COVID-19 Plasma Donor: 'You Might Save a Life If You Sit for 45 Minutes and Get a Gatorade'
"We kind of walked around with this feeling of immunity, right? This feeling that you have tiger's blood, and we were trying to figure out, 'How can we go help people?' "
That's how recently recovered patient Robert Riordan reacted after overcoming a bout with COVID-19. Fortunately for the Encinitas man, it wasn't long after his illness that he was contacted by Scripps Health.
"We're regular blood donors and it was, 'How can we help this situation?' So when I got the call from Scripps, it was a no-brainer. Right?" Riordan said. "It was like, 'Ok, hey, you might be able to save somebody's life if you go sit in this chair for 45 minutes and you get a Gatorade.' Right? It's like, 'Hey, of course I'm gonna go do that.' "
Scripps Health enlisted Riordan in a trial for an experimental convalescent plasma therapy that was tested in the U.S. in late March in New York and Texas and was also employed in the treatment of five patients in Shenzhen, China, the results of which were written up and published last month in the Journal of the American Medical Society. -- April 24, 2020
________________________________________________________________________________
Santee Family Starts Food Donation in Front Yard to Help Others
It was a way for this family to teach their two kids the importance of being there for others who may need it, and to help out their community. So they did something that really so many of us could do -- they made a resource for people to get food and supplies in their front yard.
They also wanted to make sure their neighbors felt supported and loved during this really challenging time, so they also posted signs in their front window that read "we love Santee."
To create their food bank, the family just added a few more items to their Amazon delivery order, put them out on a table in the front yard and then watched it grow.
Several people from the neighborhood also stepped up to add to the collection and help out.
"In a time that's scary and uncertain, there are still people that want to show you that we're here for you and we love you," homeowner and organizer Jenny Hermeyer said. "We don't even need to know you, we just need to know that you have a need and we'll help you fill it."
They got the idea by seeing someone else do the same thing across the country and post about it on Facebook, so they decided to give it a try locally and get their kids involved in the whole process as well. -- Ashley Matthews, April 22, 2020
________________________________________________________________________________
SoCal Co. Donates 250 Gallons of Hand Sanitizer to San Diego Homeless Shelter
A motor oil manufacturer is shifting gears during the coronavirus pandemic to create and donate hand sanitizer to communities in need, including the city of San Diego.
RPP Products Monday donated 250 gallons of hand sanitizer – or 1,000 32-ounce bottles – to the emergency homeless shelter at the San Diego Convention Center. The sanitizer will be used by shelter residents, volunteers and staff working and living in the facility. There are currently 800 homeless locals living at the San Diego Convention Center.
Sanitizer is a hot commodity these days.
The request for the sanitizer was made to the company by the City of San Diego Emergency Operations Center during the COVID-19 crisis. -- Monica Garske and Nicole Gomez, April 20, 2020
________________________________________________________________________________
Local Opera Singer Stages Porch Concerts in North Park
Social distancing has not stopped one woman's voice from touching the lives of others. That was the case for one North Park neighborhood in for a treat Sunday.
It was the second Sunday in a row local opera singer Victoria Robertson has shared the gift of song with her community. She said her usual singing gigs have stopped, but she still has the ability to uplift people -- right from her front porch.
"Live music is so important to people. Artists have lost their performance contracts, but that does not mean that someone with a gift should not use it to lift people up and enhance their lives just a little," Robertson said.
On Easter Sunday at noon, she sang several hymns to help neighbors celebrate. Churches across San Diego also held online Easter services due to the stay-at-home order.
Robertson received such a positive response that she decided to do it again.
"I was quite overcome looking down on my neighbors spread out all the way down the block with their masks on. It was one of the most moving performance experiences I have ever had," she said. -- Sophia McCullough, April 19, 2020
________________________________________________________________________________
Beloved Pet Diagnosed With Life-Threatening Condition Saved Thanks to Local Non-Profit
A local woman says she is incredibly grateful to a non-profit organization that helped cover the cost of emergency surgery that saved her beloved Great Dane after she was laid off due to the coronavirus pandemic.
Mariyah Moore, who is eight months pregnant, told NBC 7 she was laid off from her job at an area golf course recently due to the pandemic's impact on the economy. To add more worries to an already stressful predicament, her 5-year-old dog Bow was diagnosed with gastric dilatation-volvulus (GDV), a rapidly progressive life-threatening condition, shortly after.
GDV affects a dog's stomach and twists it, which can lead to complications or death. Unable to afford the necessary surgery to save her pet's life, Moore's veterinarian recommended FACE Foundation to her.
The non-profit organization is a San Diego-based charity that helps pet owners afford the cost of their pet's emergency care. It partners with more than 170 veterinarian hospitals around the county and receives a discount by at least 25% on services for qualifying FACE patients. Afterwards, it covers the rest of the costs with donations it's received.
Thanks to the charity, Bow received the necessary surgery he needed. -- Ashley Matthews and Karla Rendon-Alvarez, April 17, 2020
________________________________________________________________________________
See's Candies Sweetens the Day for Thousands of Hospital, Nonprofit Workers
San Diego's favorites chocolatiers at See's Candies have donated nearly $800,000 in candy to workers and volunteers at local hospitals, food banks and other folks fighting on the front lines of the coronavirus.
"We all need a little comfort and positivity right now, and donating See's is a great way to make people's day better," See's Candies CEO Pat Egan said in a news release. "While we aren't selling candy out of our stores, we are finding ways to bring a bit of comfort to those that deserve and need it."
Well, it's a tough job but somebody was going to have to eat it.
"We don't add preservatives to our product, so we can't just store this in a warehouse," Egan added. "It's fresh like bread, so we're thrilled this will go to patients, nurses, doctors and the front-line health care workers who are working so hard right now." -- Eric S. Page, April 16, 2020
________________________________________________________________________________
Need a Free Face Mask? Mad Engine Has You Covered
Hey, San Diego, you might want to start lining up now: Mad Engine, the locally based apparel/accessory company with global reach plans on handing out 250,000 free masks to locals.
The giveaway is taking place Saturday for four hours, kicking off at 10 a.m. on June 27 at Mad Engine's corporate headquarters at 6740 Cobra Way in Mira Mesa, as well as at a second location, in Irvine, California. Just to be clear -- these are not surgical masks; they're just the nonmedical fabric face-coverings us norms are sporting these days.
________________________________________________________________________________
Chula Vista Girl Scout Junior, 9, Sets Up Donation Table for Neighbors in Need
A 9-year-old Chula Vista Girl Scout Junior has found a sweet way to help her community: she simply shares what she has.
For the past few weekends, Halecrest Elementary School student Emma Payan and her family have been setting up a small table in their driveway filled with canned goods, fruit, vegetables, paper towels and other household essentials.
The table – located on East J Street – is a place where neighbors can grab whatever they need. They can also leave donations for others.
Emma's mom, Michelle Payan, told NBC 7 the donation table is just a small way for her family to help others during the coronavirus pandemic.
"Honestly, it's amazing how many of our neighbors are in need," Payan said.
The Payan family decided to set up the table after seeing another one just like it in a Bonita neighborhood. Emma spotted that good deed and wanted to recreate it. She wanted to make a difference.
"Emma has such a big heart," Payan told NBC 7. "I told her, 'We can't help the world, but we can just help as many (people) as we can.'"
Payan said they looked through their pantry and saw they had some extra food.
They set a table up in front of their home filled with food and hung three handwritten signs on the set-up: "Free." "Please Take Only What You Need." "Please Donate What You Can."
Within 15 minutes, Payan said people were stopping by to grab items.
The Payan family stood in the yard, watching.
Then, neighbors began to drop off donations.
Something was happening here.
"It was such a great feeling to be able to know we're giving back to our community, but people are also giving as well," Payan explained.
On that first day, Payan said the table was cleared out. As people drove by, they honked and yelled, "Thank you!"
The Payans repeated the gesture the following Saturday to similar results.
And they plan to set up the giving table again this weekend.
Payan said they've been using the week between Saturdays to replenish the items and accept donations from neighbors.
The table will be open until the food runs out and Payan said her family will, once again, keep watch from a safe social distance.
Payan said they've been able to give raisins, trail mix and toilet paper to an elderly couple walking down the street, and rice to a neighbor who lives a few doors down. Each time, neighbors have been incredibly grateful.
"It really warms my heart that we can give it, but it makes me sad to think something that doesn't cost a lot of money – rice – can make somebody so happy," she explained.
The lesson in sharing is really striking a chord with Emma and her 3-year-old sister, Payan said.
"It's really setting in for Emma – what to be thankful for," Payan said. "She sees it. I know this is a really sad time in all of our lives, but I feel like it's such a time to teach our children to stay humble and look at what we can give."
"It's a great time to reflect on what we have," she added.
In addition to the donation table, Payan said Emma spends her days making wooden American flags with her dad for their small family business. For every five flags they sell, they donate one to a military veteran, school, library or local organization. --Monica Garske; April 16, 2020
________________________________________________________________________________
Gulls Provide Meals for Hospital Workers
The San Diego Gulls have long been active in the San Diego community. That's not stopping because they can't be on the ice during the coronavirus outbreak.
"We see who's on the front lines. These nurses, these doctors, these hospital workers. They're literally putting their lives on the line so how can we help out a little bit?" said Matt Savant, Gulls President of Business Operations. "Also, we have a lot of partners we've worked with the last five years here in San Diego. Local food vendors, local restaurants, and we thought let's bring the two together."
The Gulls went to five local restaurants … Surf Side Deli, Dino's Gyros Greek Café and Taverna, Cali Comfort BBQ, Rockin' Baja Lobster, and Chipotle … and bought nearly 800 meals then had them taken to five San Diego County hospitals, following all the CDC guidelines for food preparation and delivery.
It's a gesture that helps local restaurants that have seen a dip in revenue and lets health care professionals know how much the franchise appreciates what they do.
"A few dollars to help these true heroes on the front lines at the hospital and to make their day or their job a little bit easier," said Savant. "They don't have to worry about a meal and they know it's been prepared safely. We worked with our local partners to make sure the gloves and masks were worn. Everything is done to the proper specifications so that we're keeping as many people healthy and safe as possible."
The organization purchased meals for four of the hospitals. The Gulls players jumped in to take care of the fifth. All it took was the club to send a message to Captain Sam Carrick describing what the plan was.
"Within 24 hours we had thousands of dollars raised from our players," said Savant. "All of our players opened up their personal checkbooks and wrote a check to the San Diego Gulls Foundation. We used that money to purchase the meals so this is not just coming from the Gulls and the Foundation this is really coming from our players."
Carrick helped organize the players' donations from his home in Canada.
"We're so lucky to play in a place like San Diego where we're supported so well," said Carrick. "There's such a high passion for hockey there. We've been supported through thick and thin as long as I've been here so any time we can give back to the community and help them out any way we can we're always happy to do that."
It's not just the Gulls Foundation or players who are doing good things in the community. The tone is set from the top down. Henry and Susan Samueli, owners of the Gulls and Anaheim Ducks, are going to pay for all 2,100 part-time employees of their sports and event management companies will be paid for any rescheduled, postponed or canceled events through June 30.
"It's a relief because they're all facing the same thing we all are, which is, how is my family? Are we going to be safe? Are we going to be financially available to continue on in this manner?" said Savant. "So, when an owner steps up and says instead of going the other direction we're going to pay you, that's an amazing gesture. It's not something you see very day and it makes me very proud to work for this company and be associated with the Samuelis, the Ducks and the Gulls." -- Derek Togerson; April 3, 2020
________________________________________________________________________________
Kids Spread Cheer on Sidewalks During Coronavirus Pandemic
________________________________________________________________________________
Artists, Venues #BandTogether for Local-Music Livestream Series
"San Diego live music is not canceled," begins the announcement for #BandTogether, referencing the closures prompted by coronavirus pandemic. "It is living in the virtual world! Luckily, we can still spread live music and the love from the safety of our homes!"
Over the past few weeks, we've been sharing local efforts to move live music online. Several artists have shared live shows via Facebook, Instagram Live, and other channels, but we're starting to see the movement toward Twitch.
Long the preferred streaming site for live-gamers, interest in Twitch seems to have recently spiked among circles of local musicians in light of stay-at-home orders. Twitch offers clear monetization and interactivity that can otherwise be more complicated on other platforms. Some of us (me!) were slow on the uptake, but TwitchCon happens biannually right here in San Diego in the fall and in Amsterdam in the spring. Last year's event at the San Diego Convention Center drew more than 28, 000 attendees and featured massive concert events, with artists including Lil Nas X, Blink-182, Steve Aoki, and T-Pain performing, and also showcased artists at venues like The Holding Company and Kava Lounge.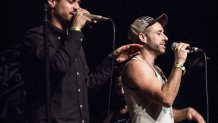 #BandTogether has drawn together a bevy of local sponsors and partners, including Garage Majal, Amplified Aleworks, the Same Same but Different festival, the Belly Up and Music Box, and is "a livestream virtual fundraiser that will run during the month of April." Fans can directly support the musicians performing and chat with other viewers as it's happening.
The streams kicked off Wednesday night with Shane Hall's full band performing on a real stage with amazing lighting, with about 100 viewers tuning in to the live performance for the duration of the show.
For anyone concerned about the live setup, rest easy: "Given the situation, safety is a No. 1 concern for all involved," states a message on BandTogether's splash page. "The crew working on the show is very small and wearing protective gear/masks. All mic stands and instruments are wiped down and sanitized before and after shows. Performers maintain safe distances during load-in and performances. No outside guests are allowed at the studio. We hope we can provide entertainment and a good reason for you to stay home."
Unfortunately, Thursday night's show with Band of Gringos was canceled due to "unforeseen technical difficulties." Judging by that first stream, however, BandTogether has the potential to gain momentum -- especially with San Diego standouts Vokab Kompany performing on Friday night -- and help us get us through these times of quarantine.
Shows stream live nightly at 8 p.m. The current lineup:
April 3: Vokab Kompany
April 4: Kimmi Bitter
April 5: The Strawberry Moons
April 6: Low Volts
April 7: Mrs. Henry
-- Rosemary Bystrak; April 3, 2020
________________________________________________________________________________
Scripps Mercy Nurses Send Sweet Message to Colleagues
It's a difficult time for heroic medical staff who are on the front lines in the battle against COVID-19, but one group of local nurses sent a sweet message of support to their colleagues at other hospitals.
Crystal Garibaldi, a charge nurse at Scripps Mercy Hospital in Hillcrest, told NBC 7 she and a colleague named Jenn "wanted to throw our love out there for all our fellow San Diego Hospitals right now."
In the video, the Scripps medical staff can be seen showing some love to Rady Children's Hospital, Palomar Medical Center, Naval Medical Center San Diego and other area hospitals. -- Karla Rendon-Alvarez; April 3, 2020
________________________________________________________________________________
Lunch on Lizzo: Grammy Winner Treats Local Hospital Workers to Meal
Two San Diego County hospitals were treated to a generous surprise when Grammy award-winning singer, Lizzo, donated meals to medical workers who are on the front lines in the battle against the novel coronavirus.
"Thank you so much for everything you guys have been doing during this pandemic," the singer said in a video addressed to the La Mesa-based medical facility. "It's been a very scary time and you guys have been a peace of mind during this time, and a hero, so thank you so much for all that you do."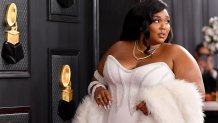 "I love you guys so much and I hope that you feel the love and appreciation pouring in from everybody all around the world because we really do love and appreciate y'all," Lizzo said.
The "Truth Hurts" singer said she wanted to show hospital workers a token of her appreciation and said she hopes they enjoy the meals. She also made a separate video for Scripps Memorial Hospital La Jolla.
"I thought, you know, it would be nice to send y'all some food just to give you a token of appreciation for how much you really mean to us," she said in the video for the La Jolla hospital. "You guys are truly heroes.".--Karla Rendon-Alvarez; April 1, 2020
________________________________________________________________________________
A Neighbor Assistance Program Hopes to Help Those at High-Risk for COVID-19
The San Marcos COVID-19 Neighbor Assistance Program wants to help their neighbors who are at high-risk of COVID-19.
"We came together on NextDoor, we kept on seeing people on the app saying that they wanted to help out elders in their community," said Sandi Lord, a member of the program. "We said 'all of those who want to help out let's all get together on a group phone call and get this started.'"
In a week, the group consisting of four built a website and started posting flyers on all public places throughout San Marcos including laundromats, apartment complexes, gas stations, and local health facilities.
The neighbor assistance program hopes to match volunteers who are under 60 are low-risk and healthy, with elders or others who run a high-risk in contracting COVID-19. They also hope to help those who are Spanish speaking.
They hope to help out individuals in getting groceries, picking up prescriptions, or other things they may need help with.
"One of the things we have offered to do as well was to call people periodically to make sure that they are OK," Lord said.
This neighbor assistance program is only offered in San Marcos, but they hope other neighborhoods can start their own on this as well.
So far, they've had more volunteers calling to lend a hand than those needing help, but they hope to get more calls after they are done posting their flyers.
"If anyone needs help out there, we are more than happy to do whatever they need help with," Lord said.
For more information, click here. -- Brenda Gregorio-Nieto; March 25, 2020
________________________________________________________________________________
Tiny Cupcake Store Finds Big Strength in Sweet Support From Santee Community
A tiny cupcake shop in Santee is in the business of spreading sweetness but, today, during the darker days of the coronavirus pandemic, it's the shop's devoted customers who are offering sweet strength and support.
"They're calling in a lot, saying and showing us, 'We're here to support your business; we want to help,'" said Yvette Nolta, co-owner of The Cupcake Store.
Nolta runs The Cupcake Store on Carlton Hills Boulevard with her mom, Anne Montgomery. They've been in business for eight years and Nolta said they've always felt the love and support from Santee but now, in these difficult times, it somehow feels even greater.
The shop is small, with no seating inside – just a lobby area with a display case showcasing the fluffy, colorful, gourmet treats. Because of the shop's size, it can get easily crowded when there's a line of customers waiting to pick out their cupcakes. There are usually a couple of tables outside, on the sidewalk, where patrons can eat.
Last week, when California Gov. Gavin Newsom and local leaders ordered restaurants to temporarily close their dining rooms to prevent the spread of COVID-19, Nolta said The Cupcake Shop made some changes.
They removed the outdoor seating and decided they would try offering curbside pickup to customers.
Even before the coronavirus pandemic, Nolta said customers would often call in their orders and pick up their cupcakes at the counter. Now, to better follow social distancing guidelines and keep people from going inside the store, the cupcakes are delivered right to a customer's car.
Nolta said, so far, curbside cupcakes are going well. She thinks she and her mom will continue to offer this service post-pandemic, too.
And, while one might not necessarily consider cupcakes an "essential" need right now, Nolta said business is solid and the customers keep coming.
"We knew we'd take a hit, but this is a tight-knit community, so it hasn't been the hit we were expecting," she explained. "I don't see us closing down because of the way we're set up."
The support from Santee and neighboring communities has been, at times, emotionally overwhelming.
So much so that Nolta's mom has taken to social media platforms like NextDoor and Facebook to simply say, "Thank You."
"A simple thank you seems so inadequate," Montgomery wrote on a NextDoor post on Tuesday. "Yesterday, at The Cupcake Store, happy tears came to my eyes several times. The encouraging words and support from Santeeites and surrounding communities was, at times, overwhelming."
Montgomery said customers are proving there's plenty of kindness to go around, even in times of uncertainty.
"We had customers from Decanso, Jamul, Julian, Rancho Bernardo, & Chula Vista, also. The heartfelt humanity of a generous heart was evident as 5 customers 'paid it forward' for the next 5 guests, and 2 of those paid it forward," Montgomery's post continued. "The curbside service was appreciated by several of our guests. Social distance was practiced by everyone, even the children. Yvette and I, and our entire staff say THANK YOU."
CORONAVIRUS IN SAN DIEGO COUNTY: What You Need to Know: Latest Developments | Resources | How to Help | What Has Reopened? | Photos: Coronavirus Impact in SD
Many customers replied to Montgomery's NextDoor note, saying they're here to support the shop for all the times the store has been there for them.
"Your store is an important back of the community," one customer wrote. "How many birthdays have been celebrated with your cupcakes? How many times have you donated to help charities? Thank you, Anne. The community cares."
"It's just been so heartwarming," Nolta added.
As she decorated a cake and took phone orders, Nolta told NBC 7 she feels like her store is even getting some new customers – people who've heard about the shop in recent days through social media.
She thinks she knows why they're gravitating to The Cupcake Store, too.
"Everyone needs to eat something happy right now," she said.
Nolta, Montgomery and their family have lived in Santee since 1975. For them, it really is home. It's where the heart is – and where the hope is.
"This community is so helpful to one another – even before all of this," said Nolta. "We're a tight-knit community and we will get through this."
The Cupcake Shop is open from 9 a.m. to 6 p.m. during the week – Monday, Tuesday, Thursday and Friday – and 9 a.m. to 5 p.m. Saturday. The shop is normally closed on Sunday and, for now, they are also closed on Wednesday.
Nolta said they have six employees – including her and Montgomery – and they all work different shifts to give one another the proper social distance.
The shop rotates its cupcake flavors each week and posts the menu on Facebook. In addition to traditional flavors, the shop also offers unique selections like S'mores, Gluten-Free Chocolate Chip & Peach and a customer favorite called the Taco Shop.
"It's a cream cake with jalapeños and cilantro baked into the cake," Nolta explained. "And it's filled with sweet jalapeño jelly topped with an avocado-lime buttercream."
Nolta said she and her mom got into the cupcake business by "fluke" after they both had careers in different fields. Montgomery was an accountant for 17 years and then a nurse. Nolta worked in the real estate appraisal industry before the big hit of 2008.
On the side, though, Montgomery ran a cake decorating business and Nolta remembers the sweet scent of delicious baked treats wafting through her family's home when she was a kid.
"We had a lot of cake at my house," she said, with a laugh.
The family plans to keep sharing those sweets with their community for as long they can. -- Monica Garske; March 25, 2020
________________________________________________________________________________
Order Up! San Diegans Join 'Great American Takeout Day'
There is a nationwide effort to save the restaurant industry which is struggling with coronavirus closures. A coalition of U.S. restaurants declared today, the Great American Takeout Day.
Buon Appetito is one of a handful of Little Italy Restaurants trying to stay afloat by offering takeout, curbside service, and even delivery.
Takeout may have fewer frills then the regular dining experience, but customers are happy to do their part.
There is less traffic then normal on a Tuesday night in Little Italy, still those in the neighborhood came with a purpose.
"During the furlough, because I work for the federal government, they supported me, so I want to support them back," Buon Appetito customer Katy Connon said.
Great American Takeout Day may be the first organized movement, but the practice of supporting local eateries has been in effect since the coronavirus closed many of them.
"Local business need as much support as we can give them at this time. So, it's a great idea," takeout customer Jason Bowie said.
The drive-up at Davanti Enoteca is only a fraction of its normal business but it keeps some staffers employed at least part-time.
"We don't have many choices. This is the only way we can try to survive," general manager Carlos Anaya said.
Customers may miss some of the more sophisticated service but the food and good cause are what lures them from their homes.
"I can help out because I normally eat out, so why not keep doing that? I just have to eat it at my house. That is not a problem," Connon said.
Great American Takeout Day won't save the restaurant industry. A month of take out days won't save it either, but the support of the devoted clientele is having an affect hard to put a price on.
"We are so lucky to have so many regular customers that are coming in, texting us and sending messages of support in our social media. We are pretty blessed," Buon Appetito manager Danijela Popovic said.
The Food and Drug Administration said there is currently no evidence of food or food packaging associated with transmission of the coronavirus. Restaurants are increasing safety measures, and customers are encouraged to wash their hands after touching takeout containers and before eating their food.-- Dave Summers; March 24, 2020
________________________________________________________________________________
Working Overtime to Prep Meals for Disabled Veterans
She's working 15-hour days. Not because she has to. Because she wants to.
"Business has been a little tricky," said Brie Thomas, the owner of We Love Meal Prep.
Thomas owns one of several food-related businesses operating out of the Park 734 Kitchen in San Diego's East Village.
While the advent of the Coronavirus actually increased her meal prepping business because more people can't find the food they want to make at home, Thomas working overtime to make an additional 100 meals every day. Why?
"We have found that there are a lot of people in need who are going without food," she said.
Specifically, disabled veterans. Thomas said the military veterans are already battling health issues, and shopping for food in the world of coronavirus only complicates things.
Pitching in During the Pandemic: Stories of San Diegans Doing Good: Read more stories about San Diegans finding creative ways to lend support. Have you heard about a story we should share? Let us know
"That's just not OK," she said as she snapped another lid over a meal.
Thomas started the process of working overtime to make the extra meals last week. She's made 100 meals every day since then with volunteer chef Anthony Young. Thomas said she used her own money before soliciting donations on her We Love Meal Prep website. Customers could donate meals for the veterans as they bought meals for themselves.
"So far, we've raised $3,000," she said. "It feels really good."
She also said she feels safe handling and delivering the food. Thomas said the food industry already had high cleanliness standards before the global pandemic.
"Our standards are super high and we're also taking extra precautions with sanitation," she said.
Tuesday, Thomas and Young made another 100 meals and hand delivered each one to veterans living in the East Village.
"We're going to keep it up for as long as the need is there." --Joe Little; March 24, 2020
________________________________________________________________________________
Local Nightclubs Get Creative to Help Struggling Staffers
The statewide closure of music venues has hit really, really hard. Even writing the words feels impossible -- the toll of the coronavirus on the overall economy is beyond comprehension, and people in the music industry are often the most vulnerable to shifts in the economy. Some venues, however, are doing what they can to keep spirits high by continuing to book shows out into the year so we all have something to look forward to when this is all over, and some have stepped up for their employees whose very livelihoods have been suddenly taken away, with no predictions on when we can hope things get back to normal.
On Monday, Tim Mays, owner of the Casbah (full disclosure: I'm the publicist of the venue), Brad Lee, who runs the merchandise business for the club, and I went into action to get the word out about a venue merch sale, with proceeds going to staff to try to offset the sudden loss of tips and wages.
The response was beyond anything the club could have expected. There have been 600-plus separate orders, more than three times what is sold during the annual holiday sale.
"I think we can safely call this a gigantic win," Lee said by email.
Customers have been flocking to classics items like the Casbah hoodie and also lured by a new exclusive shirt, named after bar manager and part-owner Ben Johnson, which is electric blue and features the classic skull & guitar logo in hot pink. Beyond sales, patrons have reached out via Facebook to make donations, including a sizable donation from a longtime patron.
Other venues have stepped up to do the same. Soda Bar, of which Tim Mays is also part-owner, launched their merch sale on Tuesday. Blonde has posted that they're putting together an online store. Brick By Brick has designed an exclusive Brick By Brick Posse shirt that will never be printed again.
Some venues like the Belly Up are also selling gift cards, and in these unprecedented times, every little bit helps.

Check out these links to buy merch:
Casbah
Soda Bar
Brick By Brick
Music Box
Belly Up
Blonde Bar
-- Rosemary Bystrak; March 20, 2020
How to Help in San Diego County During the Coronavirus Pandemic: Find out what you can do to lend a hand during these difficult times.
________________________________________________________________________________
San Diego Distilleries Take on Hand Sanitizer Shortage
If you've looked for hand sanitizer, you know stores around San Diego are sold out because of the coronavirus pandemic. Now, two local distillers are coming together to make hand sanitizer and give it to workers who interact with people on a daily basis.
"We've been talking about this since the pandemic started," said the owner of Seven Caves Distillery Geoff Longenecker. "We all had the ability to make it, but we were waiting on guidance."
There are a lot of hand sanitizer videos and recipes which explain how people can make their own, but Longenecker said this recipe comes directly from the World Health Organization (WHO).
"There's a lot out there," said Longenecker. "But they are a radically different formula than the one the WHO gave us. This is very strong, very potent, and very effective."
Because hand sanitizer is so hard to find, many people began inflating the price on websites like Amazon. That's why Longenecker and his friend Bill Rogers of Liberty Call Distilling are making sure it ends up in the hands of people who need it.
"If you're staying at home just wash your hands," said Rogers. "If you have to go out and interact with people, you need hand sanitizer."
Rogers says it's not just friends and family who want the hand sanitizer either.
"I've actually had a hospital reach out to me because they want more," said Rogers. "Our big issue is finding the bottles. The hydrogen peroxide was also an issue and glycerol isn't easy to find either."
As San Diego's restaurant industry turns to delivery and take-out, Longenecker says those workers are at higher risk.
"People are out there trying to keep their restaurant afloat by delivering to people in cars and we want to make sure they have a bottle of hand sanitizer," said Longenecker. "If this is a small piece we can do to help, then that's why I'm doing it."
Rogers' distillery Liberty Call was supposed to hold a grand opening for its new Barrio Logan Tasting Room next week. Now those plans have been put on hold.
"We're trying to find ways to keep our employees working," said Rogers. "We're going to see where this goes."
Both Longenecker and Rogers say they understand why the industry is shut down, and agree that self-quarantining is the way to go.
"We're not going to charge for this hand sanitizer," said Longenecker. "But I'll ask for donations to the United States Bartenders Guild because they have a fund set up to help bartenders who are going to be in a lot of financial trouble. -- Nicholas Kjeldgaard; March 19, 2020
________________________________________________________________________________
North County Bar & Restaurant Owner Donates To-Go Order Sales to Employees
Bars have been ordered to close. Restaurant owners can only offer to-go and delivery orders. The new mandates come as an effort to stop the spread of the coronavirus.
At a time when many in the hospitality industry are losing their jobs, a North County bar owner is making it her mission to provide employees with paychecks.
"I've been at Rookies for 15 years," said Kristin Cates, the owner of Rookies Restaurant and Sports Bar in Oceanside.
Cates started working at Rookies as a bartender before gaining ownership. She calls Rookies, "home."
"I met my husband here. Some of the bartenders were at my wedding," said Cates.
When San Diego County's Health Officer ordered bars to close and restaurants to stop dine-in serving, Cates said it hit her personally.
"[There was] a lot of nervousness, a lot of tears, a lot of what-ifs. But when you can't control anything, you sit back and do the best that you can do," Cates said.
Cates chose to donate 100% of to-go sales to her employees.
"[I'll] either write a check, [give] some cash, whatever it happens to be," Cates said. She said she plans to divide the proceeds between all 40 Rookies' employees.
"Oh, I started crying, a lot of us did," said Monika Richards, a server at Rookies. She tells NBC 7, at a time that can feel uncertain, this act of kindness brings her hope.
"It's really heartwarming and really touching. [I give] many, many thanks to her (Kristen), [for] just being that thoughtful kind person that we knew she was," said Richards.
"They're the ones who keep my doors open, so I owe it to them. It's really not a question to me," said Cates.
Rookies will be open Friday, March 20 through Sunday, March 22 from 11:00 a.m. until 9:00 p.m. for to-go and delivery orders. If you spend $100 or more, you get a free six-pack of Corona beer. -- Lauren Coronado; March 19, 2020
________________________________________________________________________________
La Mesa Police Bring Coffee to Weary Costco Shoppers
San Diegans have been flocking to grocery stores to pick up supplies during the coronavirus crisis, and long lines have become the norm. This week, a group of police officers brought a little pick-me-up to weary shoppers at a Costco store in La Mesa: curbside coffee.
Officers with the La Mesa Police Department were seen stopping by the Costco on Fletcher Parkway this week with boxes of fresh Starbucks coffee.
Local resident Evy Hernandez Reyes snapped a few photos and shared them with NBC 7. The pictures show officers pouring coffee for shoppers as they stand in a long line outside the store.
Many of the customers have smiles on their faces, surprised by the simple but nice deed. Hernandez Reyes said she appreciated the kind gesture.
As the coronavirus pandemic changes life in San Diego County and the world, locals have been lining up daily at stores like Costco, waiting to buy food and supplies for their homes.
Hernandez Reyes told NBC 7 people had started lining up at the La Mesa Costco as early as 6 a.m. on the day the officers stopped by with coffee.
Costco locations have been asking customers to line up, carts in hand, and patiently wait to get into the store. Once inside, customers are sometimes directed to other lines where they can wait for a chance to grab hot commodities like toilet paper, paper towels and bottled water – if there's any left in stock.
Hernandez Reyes said employees at the La Mesa Costco were handing out tickets so customers could get toilet paper in an orderly fashion.
"They had an amazing staff working to keep everything calm and organized," she added.
Check out more photos of life in San Diego County amid the coronavirus pandemic here. -- Monica Garske; March 18, 2020
________________________________________________________________________________
Local Distiller Concocts Skrewball Coronavirus Fundraising Campaign
The makers of Skrewball Whiskey, that love-it or leave-it peanut-butter flavored whiskey, are taking a shot at helping out bartenders affected by closures prompted by the coronavirus pandemic.
The locally-based owners of the whiskey – who are also the folks behind Ocean Beach's OB Noodle House and The Holding Company -- have pledged to donate $1 to the USBG National Charity Foundation's Bartenders' Emergency Assistance Program every time a Facebook user shares the distiller's #SkrewCOVID19 Facebook post.
The service industry, of course, has been extremely hard hit by the pandemic, as government mandates have caused the temporary shuttering of virtually all bars and in-service dining at restaurants in California and elsewhere.
Skrewball, which posted the share challenge on Monday, said Tuesday that they had reached a total of $60,000 in the campaign so far and had donated another $100,000 on top of that.
"To all of our loyal Skrewballs, we have seen an overwhelming amount of support for members of the service industry around the nation that have been affected by the spread of COVID-19," Skrewball posted on FB Tuesday. "Every share is spreading much-needed awareness, and for that, we thank you."
Facebook users can go to Skrewball's page to find the post and share it through Friday, March 20. -- Eric S. Page, March 17, 2020
________________________________________________________________________________
Aztec Brews Livestream Shows for Housebound Fans
With the aggressive transmission of the novel coronavirus worldwide, so too, have been the responses by various levels of leadership. Just last week, California Gov. Gavin Newsom set guidelines to discourage gatherings of more than 250 people and encouraging 6 feet of social distancing for events under that threshold. As other cities and states set their own mandates, on Sunday he modified his own directive to include the closure of all bars, nightclubs, brewpubs and wineries. On Monday, Pres. Donald Trump issued federal guidelines (for a minimum of 15 days) that no more than 10 people should gather. The moves are necessary for the health of our community, of course, but they are having a huge impact on the local nightlife and live music communities.
Enter Tristan Faulk-Webster, local musician, artist, and partner at Aztec Brewing Company in Vista, California. Aztec is currently staying open for to-go beer sales and brewery operations, so he sent a message via Facebook soliciting bands who would want to play Aztec for live-streaming shows. The responses have swelled since the Sunday post.
"We're able to sell bottles and kegs and growlers-fills to-go to the general public,' Faulk-Webster said on Monday by phone. "As far as the bands, it will just be them and like two or three extra people, so we'll be well within the [10-person] guideline."
While the idea is rewarding for Faulk-Webster, it is time-consuming.
"A lot of today has just been a lot of time on the phone, talking to everyone and seeing when they're available," Faulk-Webster said. "I've had a huge outpouring of interest."
Faulk-Webster said most of this week is booked with performers, starting with Hailey Wild, who will perform at 6 p.m. on Tuesday, with new artist announcements each morning via the Aztec Brewing Facebook page. Aztec has a PayPal account where viewers can donate, which will also display tipping options for the performers while they play.
Is Faulk-Webster worried that Aztec will be deemed non-essential and have to close?
"I've been getting different messages, but for now I'm sticking to the plan we have in place until we get official word that we can't," Faulk-Webster said. "It would be really tight, but once we got going again I think things would go back to normal. We're not a huge operation, so that gives us a certain degree of flexibility."
As local, state and federal guidelines are rapidly changing, perhaps live music, from the comfort of our homes, is the new normal, at least for now. -- Rosemary Bystrak; March 17, 2020
________________________________________________________________________________
Man Runs Toilet Paper Exchange on Encinitas Street Corner
Disturbed by empty store shelves and reports of hoarding during the coronavirus crisis, a man stood on a Southern California street corner and held up a homemade cardboard sign with a simple request: "Share your toilet paper."
Jonny Blue told the San Diego Union-Tribune on Saturday that the response to his impromptu toilet paper exchange in Encinitas was immediate and positive.
Drivers honked horns in support and stopped to drop off rolls of toilet paper. Just as quickly, Blue would hand rolls to those in need.
Blue gave a few rolls to a grateful motorist who said he came up empty at several stores.
"He was like, 'Do you want me to pay you?' I said, 'No, man. Somebody gave it to me. Take it.' "
The 33-year-old told the newspaper he made his sign after a friend had a difficult time finding diapers and essential supplies for his kids.
"I think people want a sense of community," Blue said. "When things are really challenging, people are looking to band together and be unified." -- Associated Press; March 17, 2020
________________________________________________________________________________
People in North County Rally to Help Seniors Amid Coronavirus Pandemic
"DO YOU NEED HELP DURING PANDEMIC?" That's the message Kristin Woods of Encinitas posted on her Nextdoor page.
She was stunned by what happened next -- 140 people responded to the message but most of them didn't need help, they wanted to give help to their neighbors in need during the coronavirus crisis.
"We didn't expect this big of a production," said Woods. "When I started I thought it would be, like, five of us on a text chain -- like, 'Mary down the street needs groceries.' 'I've got it.' "
Woods said she began getting private messages from other people on Nextdoor, the social media platform that connects neighborhoods. Within days, she had a committee of team leaders and a volunteer force ready to run errands for those who are self-isolating to avoid contact with the coronavirus.
NBC 7 met Danyella Burciaga outside the Encinitas Walmart store where she'd just picked up prescriptions for an elderly couple now confined to their home.
"With all this free time it's the least I can do," explained Burciaga, a University of San Diego masters student who teaches at a local elementary school. "I know that a lot of elderly aren't able to go outside right now, and I'm already at the store picking up last-minute things, so it's really no hassle at all."
The spirit of volunteerism became overwhelming for Woods, who said the group didn't have the kind of demand they expected but that is expected to change.
One of the group's members is the assistant director of the Rancho Santa Fe Senior Center, Lizzy Weiss, who told NBC 7 that her agency is sending out letters to seniors from Encinitas, Solana Beach and Rancho Santa Fe to let them know there are people willing to help them get through the coronavirus crisis while senior centers are closed.
"Even if they just need a friendly phone call to just check in, we're happy to help with volunteers," said Weiss, who spoke via Facetime because she is self-quarantined at home with a sore throat.
Weiss said her agency is reaching out to local grocery stores to let them know that seniors who need to have their groceries delivered during the crisis can count on volunteers to handle it.
NBC 7 also spoke to a Meals on Wheels representative, who said they are in need of volunteers now more than ever. Many of the people who deliver meals are over 65 years old and are now self-isolating to help contain the spread of coronavirus. To volunteer, visit here. -- By Allison Ash; March 16, 2020
Copyright AP - Associated Press