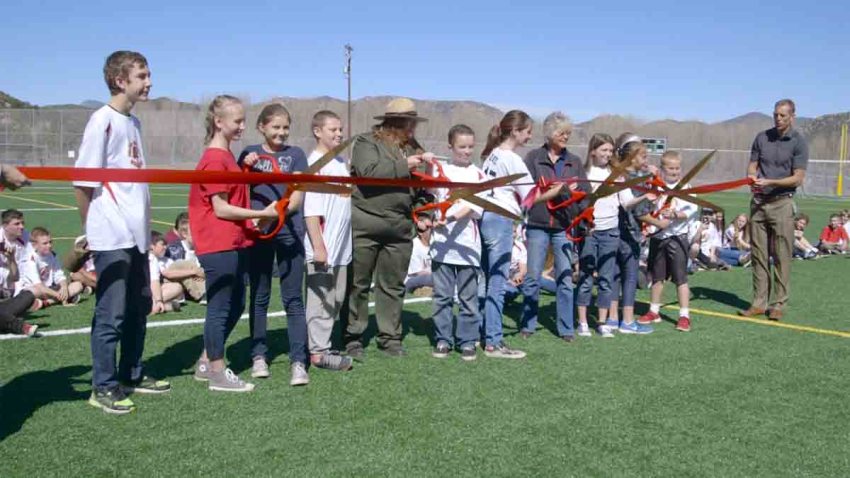 Pine Valley celebrated the opening of new soccer and baseball fields with presentations, a ribbon cutting, and ceremonial first kicks by the students from Pine Valley Middle School Wednesday morning.
The 17-acre park now features 81,500-square feet of 100-percent recyclable artificial turf, a regulation-size soccer field, and an adjustable baseball diamond that accommodates all skill levels by moving the bases in or out.
Prior to this, kids either had to travel west to Alpine or south to Campo to play baseball or soccer. Children often used a dirt lot to play, said Jessica Geiszler, a representative from the County of San Diego Department of Parks and Recreation.
The project received funding from the County General Fund and cost approximately $1.5 million, according to Geiszler.
County Parks, County Public Works, District 2 County Supervisor Dianne Jacob, and the Pine Valley Planning Group helped to create the new project, said Geiszler.
The first games to be played on the fields are scheduled for the local little league in March. However, field reservations are open and can be made by calling Kirk Carmichael at (858) 673-3900 or by clicking here.
Beyond what the fields have to offer, the new parking lot will also contribute to the community.
The ADA-accessible lot is made of a porous material that absorbs rainwater, said Geisler. After the water is filtered through the material, it will be held in large basins that will in turn water the surrounding vegetation.
The park will be open daily from 9:30 a.m. to 30 minutes before sunset.
For more park information, click here.