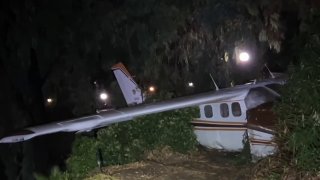 The man who died piloting a small plane that crashed in La Jolla last week was a 74-year-old Carlsbad resident, according to the San Diego County medical examiner's office.
Michael Salour was the only person on board at the time of the crash last Wednesday night, investigators said last week. According to the ME's office, he left the French Valley Airport in Murrieta, having originated at an airport in the Bay Area, then headed for the McClellan Carlsbad Airport. However, weather forced him south, possibly due to fog but officials said it was definitely because of weather. Further complications arose when a landing was aborted at Montgomery Field in Kearny Mesa and his fuel was low, information he relayed to the tower that night.
San Diego police say a drone unit discovered the wreckage of the plane that night.
Officers found a single-engine Cessna 210 on a hillside outside of a residential area near Evening Way south of La Jolla Village Drive and Gilman Drive.
SDPD confirmed the plane lost communication with area towers at around 9:30 p.m. Flight-tracking data shows the plane took off from an airport in Concord, California, at around 5 p.m. It also shows the plane attempted to land at Montgomery Field in Kearny Mesa before continuing northwest toward La Jolla where its GPS signal was lost.
Rain and fog along the coast severely reduced visibility along the coast, Wednesday night. Records show the owner of the Cessna has the highest private pilot rating. Records also show the plane is registered out of Carlsbad. It is unclear if the owner was piloting the plane at the time of the incident.