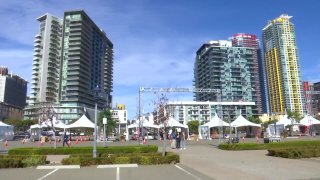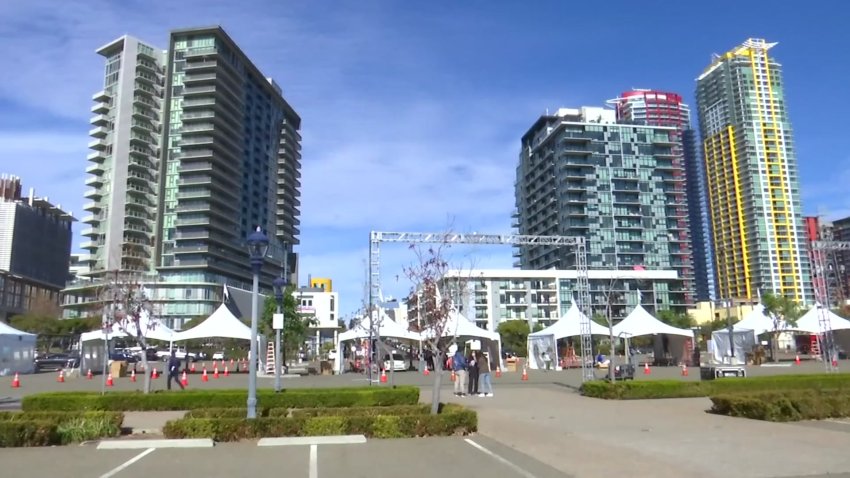 Saturday, March 20, will be the last day of operations at the Petco Park vaccination super station, UC San Diego Health confirmed.
The drive-thru site on K Street near the ballpark in downtown San Diego's East Village has been offering first and second doses of the COVID-19 vaccine from Moderna since Jan. 11.
Severe weather and vaccine supply shortages have caused temporary closures and delays at the site over the past two months.
But UC San Diego Health said that, to date, the Petco Park vaccination super station has been able to administer more than 200,000 doses of the coronavirus vaccine. The health group said this vaccination super station has "served as a model throughout the state and country."
UC San Diego Health urged people who received their first dose of the Moderna vaccine at the downtown site to make sure they had a second dose appointment scheduled for this week. Anyone who doesn't can check their MyUCSDChart account or call (800) 926-8273.
UC San Diego Health told NBC 7 there are no lingering appointments for the Petco Park vaccination super stations after March 20.
"We have sent out invitations to all those waiting for a second dose. If they have not already, those waiting for a second dose need to schedule between now and end of day Saturday," Jacqueline Carr, executive director of communications for UC San Diego Health Science said.
Carr said UC San Diego Health estimates there are about 15,000 San Diegans waiting for a second dose of the vaccine who got their first dose at the Petco Park vaccination super station. Others have gone to other vaccination sites across the county.
Last week county leaders said the site would eventually need to close for good ahead of the return of baseball at Petco Park.
UC San Diego Health said Tuesday that the upcoming 2021 Major League Baseball season is the reason the site is permanently closing after its last scheduled appointment this Saturday. The Padres, who are partners in the vaccination super station, need their space back to use for baseball season.
The Padres said they will allow fans in limited capacity at the stadium if San Diego County moves into the red tier, which happened Tuesday.
At the beginning of March, San Diego Mayor Todd Gloria announced homeless shelter operations at the San Diego Convention Center, which launched at the onset of the pandemic, were winding down. County Supervisor Nathan Fletcher said the convention center was a super site candidate, but only if the county saw an increase in vaccine supply.
"It will be pending the arrival of significant increase in vaccines," Fletcher said. "So, we don't know when that will be, but we are making arrangements and preparations to be able to administer those."
UC San Diego Health said Tuesday it will continue to operate its mobile coronavirus vaccine clinic and RIMAC site on the main UC San Diego campus in La Jolla in collaboration with San Diego County.
The health group said it is open to discussion with the county about helping vaccination efforts at other vaccination sites, too.
The Petco Park super station was the county's first large-scale vaccination site and started with a goal of administering 5,000 shots every day. The site served more than 2,500 health care workers on its first day of operation.
The county operates five other vaccination super stations in partnership with several health care networks, as well as dozens of smaller satellite locations. A list can be found here.
On Monday, the county expanded vaccine eligibility to include anyone 16 and older with specific underlying health conditions. Eligibility details from the county can be found here.
So far more than 430,300 San Diego County residents have been fully vaccinated. That total is expected to rise with the arrival of the one-shot vaccine from Johnson & Johnson last week.