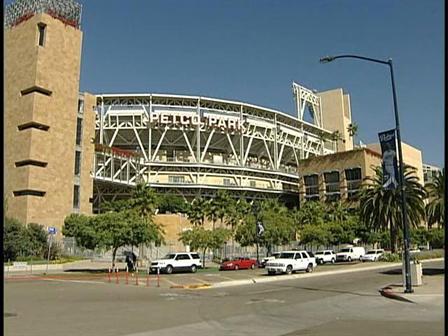 Yesterday, I took issue with new 5-for-$5 food deal at Petco Park. I noted that the 28-minute wait in line for the deal during Saturday's game was not acceptable. Ballpark officials agree. Padres executive vice president and Petco Park general manager Richard L. Andersen got in touch to acknowledge the issue, and to offer plans to make the game watching/food procurement paradigm more efficient.
The 5-for-$5 program offers fans a hotdog, soda, cookie, bag of peanuts and a popcorn "sampler." You can substitute the soda for a beer, and pay $10 for the five. Sold separately, the mini-smorgasbord would go for $17. The team sold 30,000 units of 5-for-$5 during the seven-game opening home stand.
The comments yesterday were clear. Others also experienced long waits. One dad waited in a line that wound up not offering the 5-for-$5. Another ballpark guest says they waited one hour for the deal on Opening Day. (Prolific commenter "RobMac" wisely implored us to stop eating high-caloric ballpark offerings—but that's another issue.)
Andersen says the service issue is unacceptable, and his team is investigating ways to rectify the situation. His staff was also timing food lines, and that even "speed lines" on the third-base side of the park were seeing waits of 20-30 minutes.
"The idea was to create a wild value that would bring people out to the park," he says. "That's all well and good, but the 'wow' factor gets tainted if you're standing in line too long."
More education on what the deal entails is the first step, says Andersen. They'll advertise it on TV screens, and may print out coupon-sized sheets that explain what the deal entails. That could cut down the need for excess conversation at the counter.
Andersen also wants to look at better signage, and concession stands that are exclusively 5-for-$5. "That might be best, because you're dealing with a lot of product," he says. "If somebody wants the deal, and Red Vines and a wine, that all takes more time."
Okay—the Padres reached out, and say they'll try harder. Andersen vows that service will be better when the Padres come home again (April 24). Hungry eyes will be watching.
Ron Donoho, formerly executive editor of "San Diego Magazine," is a regular contributor to NBCSandiego.com who covers local news, sports, culture and happy hours.