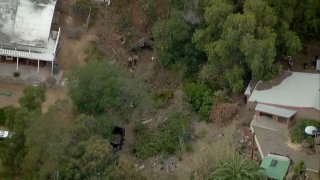 Rescue efforts were unable to save a man in Escondido on Friday afternoon after a large tree came down.
Workers were cutting down the tree at about 4:30 p.m. in the 9700 block of Thorn Lane when the was killed, according to the San Diego Sheriff's Department. The incident in the residential area occurred in a neighborhood not far from Lake Hodges.
It's not yet known if high winds played a role in the incident.
The victim, whose name was not immediately available, died at the
scene, Lt. Ryan Wisniewski of SDSO said.