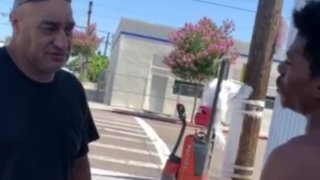 A teenager was taken to the hospital Friday after a drunk driver intentionally hit him with his car, according to San Diego police.
Kaleah Smith told NBC San Diego that the driver had been harassing her since 9:30 a.m. on Friday, driving around the block and parking nearby when they went inside a store in Logan Heights near her home.
"He was blowing kisses at me and trying to talk to me when he was parked on the side of this store," Smith said. "So I had to call my cousins to come up there, and they came down here."
Smith said they confronted the driver, who was later identified by police as Fernando Chavez Lopez, 55, inside the Ideal Market at 31st Street and National Avenue at around 11 a.m.
"We were arguing with the dude inside the [store], and we left because the store man didn't want all the commotion inside his store," Smith said. "We went to talk to the dude on the side of the store, and he told us he was just drunk and that he would leave us alone. He tried to give us money but we didn't want it."
Smith said she then returned home and that Lopez parked outside of her house for a while in an older-model gold Nissan Sentra. After he left, Smith, her fiance and two cousins returned to the Ideal Market to talk to the store's owner
As they were walking, Smith said, Lopez attempted to run down Smith, her fiance and one of her two cousins. When he missed, he drove up the street and pulled a U-turn, then returned and intentionally struck her other cousin, a 19-year-old, who shattered the passenger-side windshield as he rolled over the car.
Lopez then fled the scene, according to police, who found his car 10 minutes later on Sicard Street about three-quarters of a mile away. Lopez was taken into custody and booked into the Central Jail.
The teen suffered minor scrapes and bruises in the attack and was bleeding from the ears, police said. Paramedics put a neck brace on him before he was taken to the hospital on a gurney.
Smith told NBC 7 that she did not know Lopez: "This is our first time seeing him."