Thousands of people marched from San Diego Police headquarters to North Park to honor the black lives lost due to police brutality, and to advocate for police reform.
The demonstration was led by a group of black youth in San Diego. Their protest route started at the downtown police station and spanned several blocks through the uptown area to North Park, then back to its starting point.
"We are mobilizing a peaceful march as well a protest," said Victor, a participant. "We are frustrated for the injustices that the police have imposed on our communities and our people, our black brothers and sisters."
People began to gather near the headquarters around 4 p.m. Many wore masks and held signs that said "Black Lives Matter."
"Our goal is to show people that these protest that you do watch today, are not just black people, it is everyone. And its everyone versus racism, it is not black versus cops, it is everyone versus racism and oppression," said Joey Moss, a protest promoter.
March organizers said they expected between 400 and 1,000 protesters. The San Diego Police Department estimated the size of the crowd at 2,000.
Protesters Nyadoth Gatkuoth and Huda Ahmed said the march felt "amazing," and said the crowd stretched as far as the eye could see.
We literally couldn't even see the end of the crowd. It was something we never expected," Gatkuoth said.
SDPD tweeted around 5 p.m. saying several hundred peaceful protesters had gathered near the police headquarters and that they are walking west of F Street towards downtown. By 5:30 p.m. the sea of protesters had reached 6th street near Balboa Park.
By 7 p.m. the group had reached North Park.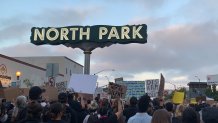 By 9:30 p.m. the crowd had stopped and an organizer was seen addressing the crowd as they cheered.
The first an only arrest of the night was made just before 10 p.m. That person was taken into custody for shining a laser pointer at their helicopter, according to SDPD.
Another protest took place Thursday in the South Bay. A Black Lives Matter protest started around 2 p.m. at the Chula Vista Community Park near Eastlake High School. SkyRanger 7 was at the scene when dozens of protesters and police kneeled down.
Demonstrations continue in San Diego as part of nationwide protests over the death of George Floyd.
Some of those gatherings have shifted to unrest, but San Diego Mayor Kevin Faulconer said this week that the "violent acts of a few" do not represent the overall peaceful protests across the city.
"San Diegans have an absolute right to peacefully assemble and speak out against systemic racism and to express their concerns," said Faulconer. "People want change; they want to be heard. And I want to thank those San Diegans for their willingness to work with the San Diego Police Department to peacefully protest."
In response to the unrest, other cities in the county have been issuing curfews this week, including Poway, Santee, parts of Spring Valley, parts of Lakeside, El Cajon, Lemon Grove, National City, and Coronado. These curfews are usually posted on each city's website.