Sam Willoughby raced in two Summer Olympic Games and took home a silver medal at the 2012 games in London.
But he now faces the toughest race of his life: he wants to dance at his wedding in April.
A fundraising event at the Olympic Training Center in Chula Vista this Saturday could help him achieve the dream.
The Australian BMX rider, who lives and trains in Chula Vista, crashed during a warm up ride on his Olympic Training Center home track recently, severely injuring his spinal cord.
Willoughby can't move from the chest down, but believes a recovery is possible with intense rehabilitation.
"It's been a hard reality," said Tyler Brown, Willoughby's friend and training partner.
The two have a long friendship behind them.
"Sam was a groomsman in my wedding, I'm a groomsman in his wedding in April, and his goal is to be able to walk down the aisle with his fiancée," said Brown.
Willoughby is engaged to fellow Olympian Alise Post, who won a silver medal for Team USA in Rio De Janeiro this past summer. The couple lived and trained in Chula Vista, but moved to Colorado Springs, Colo. after the crash, where Willoughby works full-time at rehabilitation facility to regain mobility.
While he has rehabilitation insurance, friends say it may only get him to a point where he can sustain the injury and live under his "new condition."
Willoughby's goals go far beyond that - but the therapy needed to challenge him will outpace his coverage.
Brown wants to help raise thousands of dollars for Willoughby's therapy at Saturday's "Strength For 91" event in Chula Vista.
Chula Vista BMX will host the SW91 Challenge on Saturday, Nov. 5 at the Chula Vista Olympic Training Center with a BMX clinic taught by local pros. The event goes from 11 a.m. to 1 p.m., with practice time from 1 p.m. to 3:30 p.m. Racing starts at 4 p.m.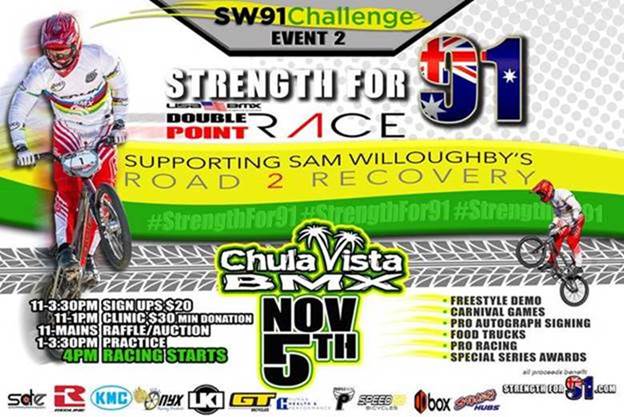 Organizers say there's something for everyone at the fundraiser, so for those that don't want to get on the BMX track themselves can still come out and have a great time.
There will be circus games, pro racing to watch, a pro freestyle demo, giveaways, raffle items, food trucks and enough activity to make for an exciting day.
The online and in-person auctions will have an impressive line-up of jerseys from Olympians, along with items to appeal to both BMX and non-BMX attendees.
All proceeds from the SW91 Challenge event will go to Sam's recovery fund.
Chula Vista BMX operates the open-to-the-public, all-ages BMX track adjacent to the Visitor Center at the Chula Vista Olympic Training Center. More info on the track and its operating hours is available by clicking here.
More information on Sam's recovery and online donations can be made online by clicking here.