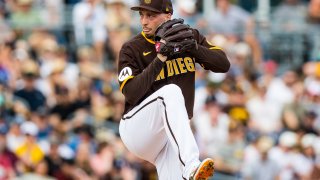 Blake Snell is one of the most talented pitchers in baseball. He's also one of the most confounding.
Take the 2022 season, for example. In the first half Snell made 11 starts and pitched to a 5.22 ERA, issuing 31 walks in 50.0 innings. That's not great. That's not even good, and definitely not what anyone would expect from a Cy Young Award winner in his prime. In the 2nd half, however, he made 14 starts and sliced his earned run average to 2.19 while walking just 20 batters over 78.0 innings.
That second one is the guy the Padres are hoping they get when they send Snell to the mound as their 2023 Opening Day starter.
Manager Bob Melvin made it official on Friday morning. With Joe Musgrove still recovering from a broken toe and Yu Darvish behind schedule after helping Japan win the World Baseball Classic their best option is Snell, and it's really not a bad guy to have as basically your third option.
"You saw the way he finished up last year in the second half. He's come this Spring looking to put together a really good season from the very beginning," says Melvin. "There are a lot of reasons for that but I think giving him the Opening Day nod on top of that would suggest we think he's in a really good place this year. (He was) probably a little more ramped up once he got to camp and knows that we're counting on him from Day 1."
Since coming to San Diego in a trade before the 2021 season Snell has gotten off to slow starts then rounded into form at some point in the middle of the year. This time around it appears Snellzilla is approaching March with a renewed sense of urgency.
"It's just a mindset, you know? Each and every game, I think, he realized this year is as important as any one," says Melvin. "In the past it's taken him a little while to find his footing but I think, with the Opening Day assignment, he'll realize that the first game is just as important as the last. That really is the mindset he came this camp with is, every game is going to be the same this year. A little bit of a different focus, I think."
Snell is entering the final year of his contract and, at the age of 30, is sitting right in his prime. If a pitcher of his caliber is able to put together a full season that looks like his 2nd halves in San Diego?
"He'd be commanding a pretty big contract at the end of the year," says Melvin. "Obviously, when you get to your free agent season there's a lot to drive you but, I think more than anything, he just wants to be there for his team and take us to a different level. It starts with Opening Day."
Melvin says Darvish will probably need two more outings before he's ready to go in big league games, the first of which would come on Saturday in a back field game in Peoria but likely pushes him back. Musgrove told NBC 7 SportsWrap on Friday that his toe is still ahead of schedule. He's throwing off a mound and going through all the regular pitcher fielding drills. However, both of them are very likely going to have to miss at least one trip through the rotation.
Here's where the Padres depth comes in extremely handy. After Snell it will likely be Nick Martinez, Michael Wacha, and Seth Lugo in some order. Melvin says there's still a chance they employ a 6-man rotation, which means Ryan Weathers, Jay Groome, Brent Honeywell, and Julio Teheran could all begin the year as starters before transitioning to bullpen roles.
LISTEN: With NBC 7 San Diego's Darnay Tripp and Derek Togerson behind the mic, On Friar will cover all things San Diego Padres. Interviews, analysis, behind-the-scenes...the ups, downs, and everything in between. Tap here to find On Friar wherever you listen to podcasts.