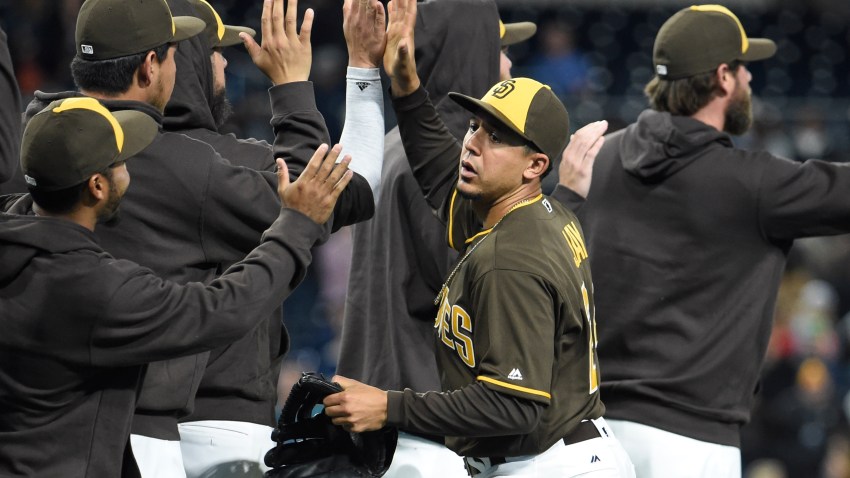 If Padres manager Andy Green was asked to draw up the perfect way for his team to win a ballgame, I don't think he'd say starting pitcher throws way too many pitches and gets pulled after five innings … four relievers have to come in and throw an inning each … offense gets only one extra-base hit … and starting outfielder gets in to a slap fight with the right field wall.

But I don't think he'd argue with it, either.

The Padres beat the Mets 2-0 on Friday night at Petco Park. After being shut out eight times in 2016 you had to figure eventually the Friars would hold someone else scoreless.

Starting pitcher Drew Pomeranz tossed 5.0 innings of 1-hit ball but needed 98 pitches to do it. He's only allowed one run in his last 12.0 innings on the mound. This time his offense got him just enough help to win a game.

Jon Jay led off the game against Mets stud Noah Syndergaard with a double. Jay moved to third on a Wil Myers ground ball and scored on a Matt Kemp sacrifice fly. Jay had three hits and drove in the San Diego's other run with an RBI single in the 5th inning.

Once Pomeranz was out the bullpen kept putting up zeroes, but needed a little help from the defense to do it. In the 6th inning Kevin Quackenbush left a pitch up and out to Yoenis Cespedes and the Mets slugger ripped it to right field. Kemp tracked it down on the warning track on a dead sprint, made the catch, and in the emotion of the moment gave the padded wall in right-center a big right-handed slap.

Ryan Buchter, Brandon Maurer and Fernando Rodney followed with a scoreless inning each to secure the win. Rodney has still not allowed an earned run this season and now has eight saves on the season. The Padres are 4-1 on their 7-game homestand with a pair of games left against the Mets this weekend.

On Saturday James Shields takes the mound against Bartolo Colon.