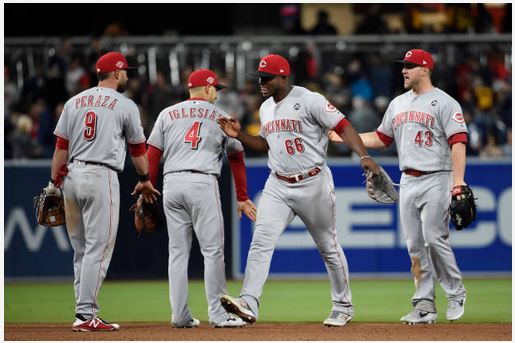 The Padres lost to the Reds 4-2 on Saturday night at Petco Park. It was San Diego's 6th straight loss.

During the losing streak they've averaged two runs a game offensively. Also during the streak they've gone from 11-5, in first place with a three game lead in the N.L. West to 11-11, in 3rd place and 2.5 games back of Los Angeles.

The offense has been putrid and the reason they're giving might not be what Padres fans want to listen to right now.

"Part of it's baseball," said Padres manager Andy Green. "I know nobody likes hearing that at times. The reality of it is you play a 162-game season you're going to go through skids; you're going to go through good stretches. It's a weird way to get to .500 (11-11) to start the season. I think the team that's just up north (the Dodgers) lost six straight then turned around and won six straight. It's baseball."

The only guy who's been hitting consistently is the guy who probably should not be hitting consistently. On Saturday 20-year-old rookie shortstop Fernando Tatis Jr. ran his hitting streak to nine games with an 8th inning triple, the first 3-bagger of his big league career. Tatis leads the team in average, OPS, home runs and RBI.

He was able to score on a single by Eric Hosmer, who went 3-4 with a home run to lift his season average above .200. As a team the Friars struck out 14 times.

On Sunday Joey Lucchesi has a chance to try and, as his skipper mentioned, start a winning streak when he takes the mound against Tyler Mahle.