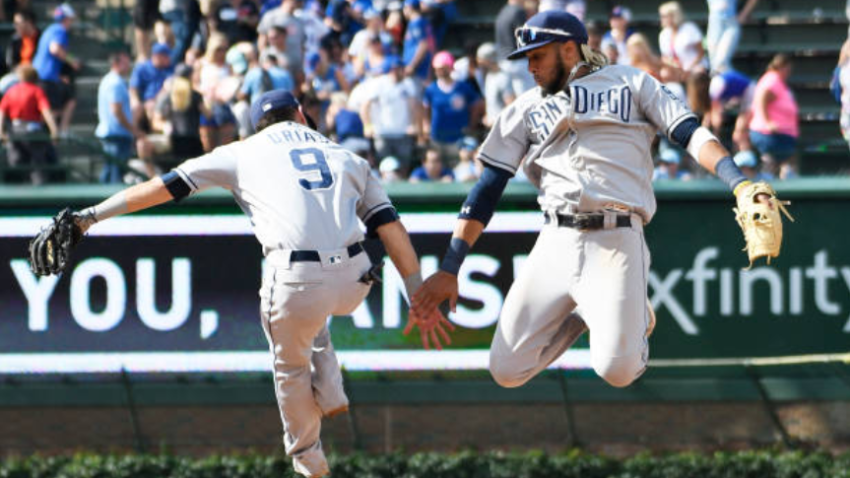 We knew the Padres were going to be young this year. We just didn't think they'd be quite THIS young.
They had two guys in the starting lineup for Sunday's series finale against the Cubs who were born in 1999. All-in-all, five of the 12 players who saw the field were rookies.
They beat a team that's in first place.
San Diego beat Chicago 5-1 to avoid a sweep at Wrigley Field. 20-year-old Adrian Morejon made his Major League debut on the mound. He was called up straight from Double-A Amarillo and the Cuban youngster was not too bad against a potent lineup.
Morejon gave up one run in 2.1 innings and got his first big league strikeout, whiffing opposing pitcher Kyle Hendricks. He was relieved by rookie Cal Quantrill, who might have found the role he's best suited for. The 24-year-old tossed 5.2 shutout innings, allowing just two hits and striking out six with no walks. As a reliever the former 1st round pick has tossed 11.1 innings and allowed just one run.
In the 5th inning the Padres tied it up thanks to 20-year-old rookie Fernando Tatis Jr. The superstar in training singled to right to bring in 22-year-old Luis Urias (who walked twice in the game) and make it a 1-1 game.
In the 7th inning it was still 1-1 when 23-year-old rookie Francisco Mejia showed off his ridiculous bat speed. The catcher smoked a solo homer into the basket in right field off Kyle Hendricks to put the Padres up 2-1. Mejia, who has moved past Austin Hedges into the primary catching role, is hitting .292 since the All-Star break.
In the 9th inning the Padres put it out of reach with help from old man Greg Garcia. The 29-year-old veteran and Valhalla High alum fouled off a couple of tough 2-strike pitches from Carl Edwards before getting hit by a pitch to bring in Hunter Renfroe and make it 3-1.
It also turned over the lineup so Tatis could do Tatis kinds of things. El Nino lined a single to right field to bring in two more runs and make it a 5-1 game. Although it was not a save situation closer Kirby Yates threw the 9th to secure the win.
The Padres get a day off on Monday then start a 3-game set in New York against the Mets with Chris Paddack on the mound to renew his budding rivalry against fellow rookie Pete Alonso.