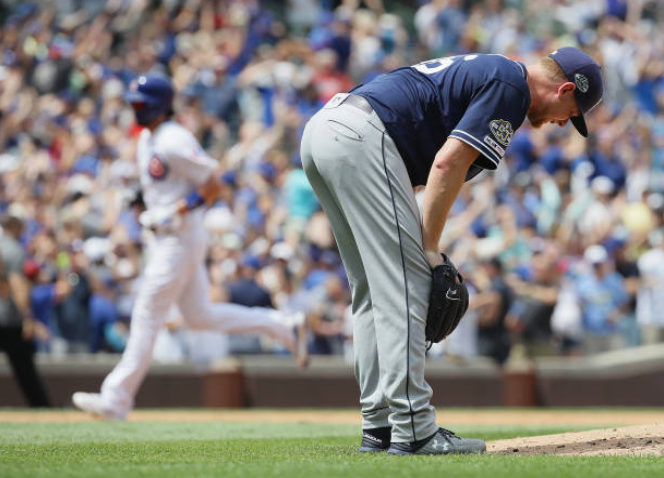 Over the course of a 162-game season there will be plenty of days where the other team flat out beats you. Those days you can live with. But there will also be days where you beat yourself. Those are the ones that eat you up from within and keep you from the playoffs.
The Padres turned in the latter in a 6-5 loss to the Cubs on Friday at Wrigley Field, a game that began with the feeling that they'd be able to turn around their awful start to the season's ceremonial 2nd half.
Manny Machado launched his 24th home run of the year in the 3rd inning off Chicago starter Jon Lester, a 2-run blast that gave the Friars a 3-0 lead. Eric Lauer gave it back immediately.
With two outs in the 3rd Lauer gave up two singles and a walk … then left a pitch up to Anthony Rizzo and the former Padre slapped it over the left field wall for a grand slam and a 4-3 Cubs lead.
San Diego tied it in the 5th inning on an RBI double by Francisco Mejia … only to have the Cubs take the lead right back on a solo homer by Javier Baez in the bottom half.
The Friars tied it again in the 8th inning when Josh Naylor smoked a pinch-hit homer to centerfield to make it a 5-5 game … but then the comedy of errors began.
With a runner at 1st base and one out Craig Stammen got Addison Russell to hit a routine double play ball to shortstop … but Fernando Tatis Jr., who has had an awful week both offensively and defensively, threw the ball into right field for an error. After intentionally walking Jason Heyward to load the bases Stammen got a ground ball to 3rd base.
Machado made a perfect throw to the plate to get the lead runner. Mejia tried to complete a double play … but his throw hit off Eric Hosmer's glove at 1st base and what turned out to be the winning run scored. The Padres have made seven errors in three games and would have lost them all had it not been for Chris Paddack's near no-hitter on Wednesday night in Miami.
The Padres have gone 1-6 after the All-Star break to fall to 46-51 on the year. Joey Lucchesi get the ball on Saturday against Chicago lefty Jose Quintana.