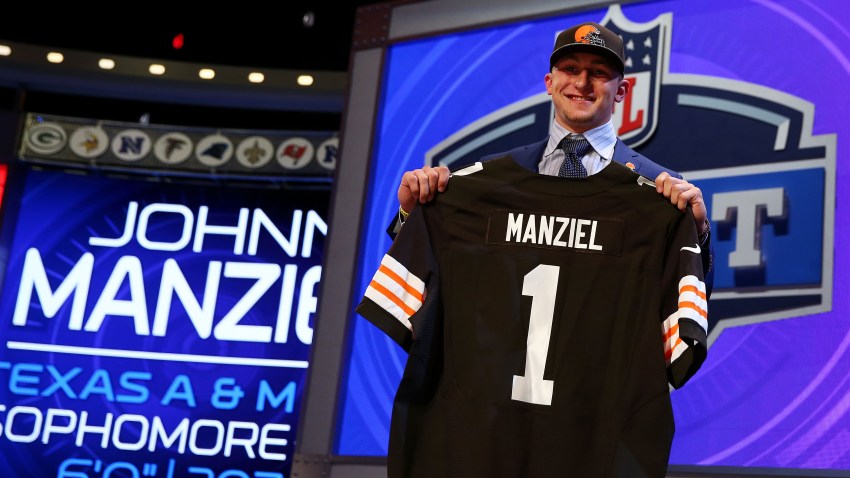 The Padres finished their 2014 MLB Draft by taking 30 more players on Saturday. This is a franchise in need of as many potential impact players as they can get, especially if they're position players.
Even if that position is quarterback.
There are other players who will have a bigger (and more immediate) impact on San Diego's professional baseball team, but by far the most interesting selection the Padres made came in the 28th round, when they took Johnny Manziel.
Yes, THAT Johnny Manziel.
The Heisman Trophy winner from Texas A&M who is currently fighting for the Cleveland Browns starting QB job was a pretty good middle infielder in high school. The baseball coach at the University of Texas actually recruited him harder than then-football coach Mack Brown.
So, since Manziel is draft-eligible and technically listed as a shortstop, the Padres took a flier on him.
Padres General Manager Josh Byrnes got to know Manziel a bit while Johnny Football was training for the NFL Draft in San Diego. The football players would occasionally work out in the outfield at Petco Park to get a large grass area that offered a bit of privacy.
"[Johnny's] football career is certainly the priority, but you never know," said Byrnes. "It doesn't hurt to sort of formalize the relationship and see what happens."
The Padres have until July 15 to sign Manziel to a baseball deal. If they do, he remains their property for six years.
Here is the full list of the Padres' 40 draftees.