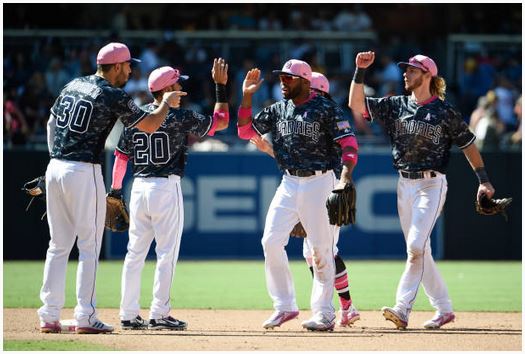 The Padres know Clayton Richard is not the most dominant pitcher in baseball. But what he has a whole lot of is moxie.

The Friars just want him to keep them in ball games so if he keeps doing what he did on Sunday against the Cardinals it's a heck of a bonus.

Richard tossed 8.0 innings and struck out 10 (tying his career high) in a 5-3 win over St. Louis to split their 4-game series and give the Friars back-to-back wins for the 4th time this season. Clayton also threw 8.0 innings in his last start, making him the first Padres starter to go at least that long in consecutive games since Andrew Cashner in 2014.

Cardinals starter Adam Wainwright, however, suffered another setback. Making his first start since going on the disabled list on April 20 with elbow pain, Wainwright said he felt something go wrong in his final warm-up pitches and couldn't command his usually dominant stuff. Wainwright walked six Padres in 2.1 innings before being removed from the game. The All-Star might have to go back on the DL for a while to let his elbow heal.

The Padres got two runs off Wainwright, one on a Cory Spangenberg single and another on a Freddy Galvis sacrifice fly, before he left. They got two more in the 4th inning on consecutive RBI hits by Jose Pirela and Franchy Cordero to pump the lead up to 4-0.

The only runs Richard allowed came in the 6th inning when Harrison Bader smacked an RBI triple and scored on a Jose Martinez single. Outside of that, Richard allowed just three other hits.

The game got a little dicey in the 9th inning. All-Star closer Brad Hand came on to try and preserve a 5-2 lead and gave up a home run to Bader to make it a 5-3 game. Hand then walked two batters and hit a third to load the bases with one out.

Then he leaned on his bread and butter.

Hand threw seven more pitches, six of them sliders, to strike out Carson Kelly and Kolten Wong to end the game and earn his 11th save. The Padres have won back-to-back games for just the fourth time this season and after the game word got out (thanks to a tweet by East Village Times) that they're bringing up another one of their youngsters.

22-year-old outfielder Franmil Reyes will be recalled from Triple-A El Paso and with the team when they start a series against the Rockies at Petco Park on Monday. Reyes has hit 14 home runs for the Chihuahuas, making him the professional baseball home run leader. He's also driven in 38 runs while hitting .346.

At 6'5" and 250 pounds Reyes has plenty of pop in his bat but when the season started was not listed amongst the team's top prospects. In fact, he was exposed to all the other 29 MLB teams in the recent Rule 5 Draft and all of them ignored him.

He'll get the 40-man roster spot that opened up when the Padres designated Chase Headley for assignment. The Padres have not officially announced Reyes is coming up and will have to make another move, either sending someone on the big league club to the minors or the disabled list.