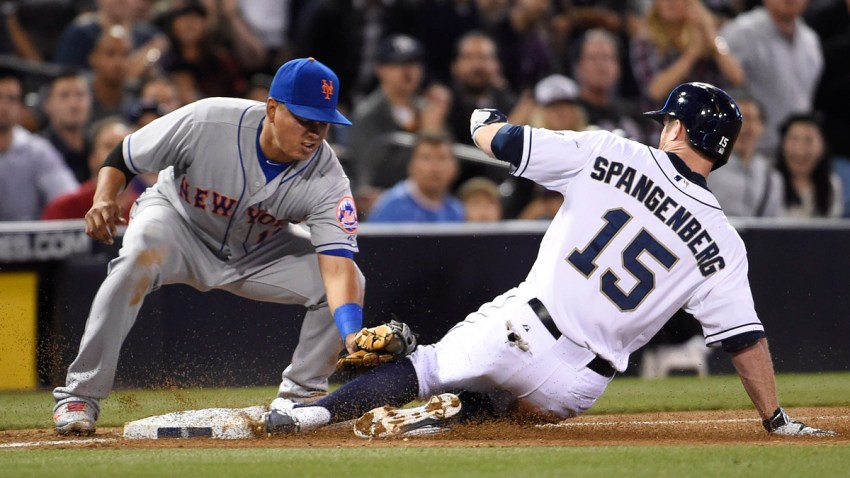 The Padres were seeing triple in Tuesday's 7-2 win over the New York Mets at Petco Park. As in, a pair of triples that led to three of their first four runs.
After Alexei Amarista drove in a run with a single in the second inning, Will Venable followed that up with a two-run triple to give the Friars (26-28) a three-run lead. Then Cory Spangenberg got into the act with a three-bagger in the third that scored Yonder Alonso.
Derek Norris capped off the scoring for the Padres with a two-run homer in the fourth.
The offensive output rewarded Ian Kennedy with a win in a solid start, where he allowed just a pair of runs on six hits while striking out eight.
First baseman Yonder Alonso had three hits and scored a pair of runs in his first game back from the disabled list. He's now hitting .352 in 27 games.
"We need him to continue to do this," Padres manager Bud Black said. "Somebody asked me … this afternoon if he could be a spark. I said, 'If he plays well.' And he played well."
The Mets (29-24) got three hits from Michael Cuddyer, including an RBI single in the first inning. New York starter Noah Syndergaard struck out 10 – including Justin Upton and Matt Kemp three times each – but allowed all seven runs in four innings of work.
The two teams play again at Petco on Wednesday night at 6:10 p.m.