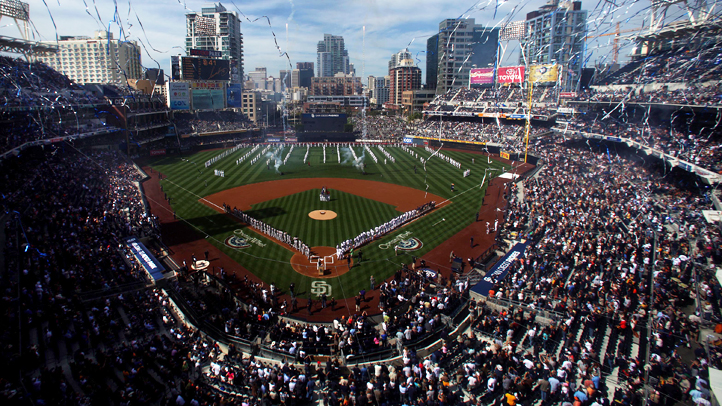 In their first two games against the Dodgers, the Padres scored just two runs. On Sunday, the Padres celebrated Military Opening Day by wearing their new, Marine Corps-inspired digital camouflage jerseys. The Dodgers never saw what hit them.
San Diego won 7-2 with what is, for them, an offensive explosion. Seven of their ten hits were for extra bases, including home runs from Ryan Ludwick, Nick Hundley and Cameron Maybin.
"When you start getting hits and you back them up consecutively," said manager Bud Black, "there's a different feeling in the dugout. But it works the other way, too, now. When you don't get them, guys try to be the igniter a little bit."
Ryan Ludwick may have hit his ignition switch. After starting the season 2-for-23, he unloaded a 438 foot missile into the upper tier of the upper deck in left. It's been a long time coming for a slugger who's had a few drives swallowed up by PETCO Park.
"It's frustrating," said Ludwick. "I've hit a lot of balls to the warning track in this ballpark, and it feels like the only time it leaves the yard here is when I get 100% of it."
Cameron Maybin's solo blast into the bullpen also flew a long way, but he didn't know he had his first PETCO Park poke until it actually cleared the wall.
"Even though I hit that ball pretty good, I was still up in the air about it," said Maybin. "You never know here, man, you gotta got hard out of the box because some days they hang up and some days they don't."
The rest of the Padres' revamped lineup also seems to be stirring. Jorge Cantu hit a laser for an R-B-I single, and Brad Hawpe smashed a double. This is a team laced with veterans who Buddy says won't make too much out of an 8-game sample.
"We'll get there. There's no doubt our guys will get there."
Aaron Harang didn't need much support. He allowed just one earned run in six-plus innings to win his 2nd straight start.
On Monday the Padres host the Cincinnati Reds. Mat Latos will return from the disabled list to make his 2011 debut.