The Padres gave us a 90-game tease of what being in playoff contention feels like. They were 45-45 and within 2.0 games of a National League Wild Card spot when the All-Star break hit and they took a 2nd half nosedive.
It was probably good practice because the Friars are fully expected to be in the season-long post-season hunt in 2020 and now we know the exact road they'll have to navigate to get to play October baseball.
San Diego's 2020 schedule is out. They get to open and close the year at home against division rivals. Opening Day is Thursday, March 26 at Petco Park for a 1:10 p.m. start against the Colorado Rockies. The season finale is on Sunday, September 27 at home again for a 12:10 p.m. first pitch against the Los Angeles Dodgers.
The full season schedule looks like this: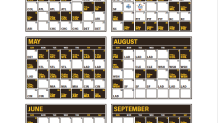 The Padres play all four N.L. West division opponents in the final month of the season. In all, 25 of their final 32 games are against the division with four games against the Mariners (the entire Vedder Cup is in September next year) and three with the Twins.