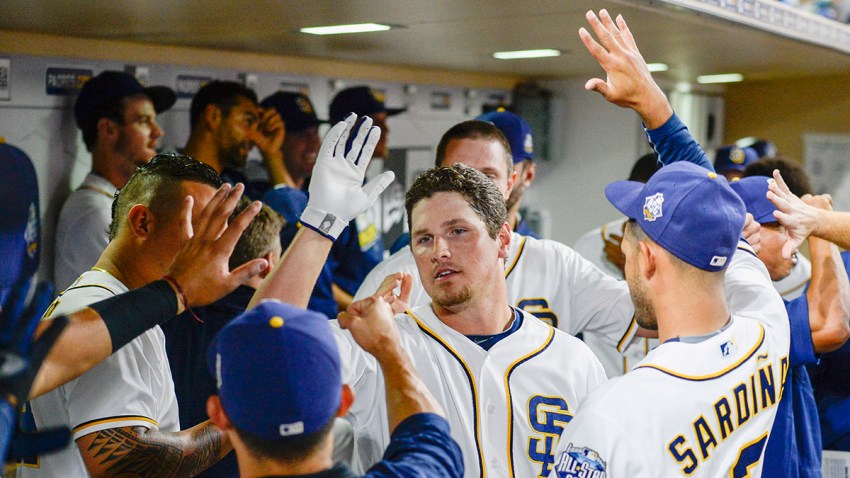 The curtains have closed on another Padres season which ended very similar to how it started back in July, with a Padres sweep.
The Diamond backs brought out the broom in the bottom of the ninth in the battle for the basement.The Diamondbacks clinch fourth place with the 3-2 win.
The D-backs have now beat the Padres in the last 4 match ups. However the Padres still hold the winning record on the season, taking six of their ten matchups.
It was a low scoring game for both teams that came down to the wire. It was the bottom of the ninth with two outs and Brad Hand on the mound. Hand who has proved to be the Padres best pitcher this season was no match for Phil Gosselin who would finish the game with a walk off RBI single. This was Gosselin's 13th RBI in 122 games this would help the Diamondbacks get the final run of the evening.
Padres September call up Hunter Renfro would gain his 14th RBI in the top of the fourth with a double to left field, scoring Wil Myers and finishing the Season with 14 RBIs in just 11 games. Renfro could be the game changer for the padres come next season.
Renfro wasn't the only Padre who gained an RBI in this game; Luis Sardines continued his high hitting streak with a ground ball past third to score Austin Hedges. Sardines would finish his 2016 season with 18 RBI's in 66 games.
Though the Padres take last place in the NL West it is not all bad news, this will put them in better positioning for the 2017 draft pick.