An overturned semi-truck blocked lanes on Interstate 15 Thursday, prompting a traffic alert that slowed the morning commute.
The crash happened just after 7:20 a.m. on northbound I-15 near Via Rancho and Centre City parkways. A delivery truck was turned on its side. Two right traffic lanes were blocked by the truck and the California Highway Patrol (CHP) issued a traffic alert.
As of 8 a.m., traffic was backed up to Rancho Bernardo Road, with commuters experiencing delays of up to 30 minutes. Traffic, though slow, was moving through the lanes that remained open.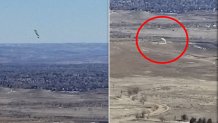 Just before 8:40 a.m., crews were able to turn the semi-truck back onto its wheels. Some of the contents of the delivery truck were unloaded, including large boxes that appeared to be carrying refrigerators, per the labels.
By 9:15 a.m., CHP had canceled the traffic alert and all lanes of the freeway had reopened.
At this point, it is unknown if anyone was hurt in the crash.