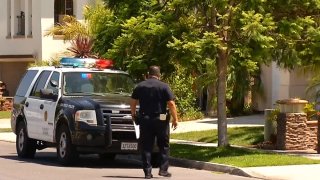 A 2-month-old baby boy found not breathing at a child day care in Otay Mesa has died, San Diego police confirmed.
Police said the infant was found not breathing just after 12:30 p.m. at an in-home day care in the 4800 block of Sea Coral Drive. Officers were the first on scene and gave the baby CPR until paramedics arrived.
The infant was transported to Sharp Chula Vista. Police said the boy was pronounced dead at 1:26 p.m.
The incident is under investigation. Further details were not immediately released.
The day care program at the Otay Mesa home is licensed and goes by the name of Mona's Playhouse Day Care.
Grandmother Emma Paguio has been bringing her children to the day care program for the past six months and told NBC 7 she's never had any issues with the child care there.
She said at least three people, to her knowledge, help run the day care. Whenever she picks up her grandkids Paguio said she's seen four or five other children there.
Upon hearing that an infant being cared for at the home had died, Paguio was visibly upset.
"Oh my God. That's very sad. I feel very sorry for that," she said between tears. "I'm very sad for the [baby's] mom."
Paguio said the news makes her concerned for her own family.

"I want my grandkids to be safe, too," she added.