Vandals recently targeted a school in Escondido, chopping down a 20-year-old tree on campus and spray painting different areas, police confirmed.
The Escondido Police Department and San Diego County Crime Stoppers released photos of the vandalism Friday that occurred at Orange Glen High School located at 2200 Glenridge Rd.
According to investigators, late last month unknown vandals used an ax to chop down a large tree near the school's library that had been there for two decades, leaving only a stump behind.
School staffers also noticed various parts of the campus had been tagged with orange spray paint. Photos showed a phallic symbol spray painted on a retaining wall and the words "F*** OG" tagged on a sidewalk. Another tag on the wall of a school building included the letters "EHS."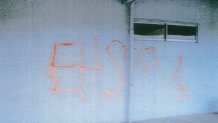 Investigators said the vandalism will cost the school approximately $3,400, which includes the tree replacement and removing the spray paint.
Police said the vandalism was first discovered by school staff on May 26 after the school had been closed for the long Memorial Day weekend. The exact date when the crime occurred over the holiday weekend is unknown. Security cameras were not recording at the time of the incident.
To date, no arrests have been made in this felony vandalism case.
Anyone with information should contact the Escondido Police Department at (760) 839-4722 or Crime Stoppers at (888) 580-8477. Authorities are offering a $1,000 for information leading to an arrest. Tipsters can remain anonymous.
Some school employees believe those responsible for the damage are students, maybe even some enrolled at Orange Glen High School or at neighboring schools.
The vandalism is upsetting to a couple of alums, 2014 Orange Glen graduates Diego Bailon and Hipolito Garcia who visited the campus Friday to see the damage for themselves.
"Just needed to see it," Bailon told NBC 7. "It does kind of takes away from the image of the campus. It's a really nice campus."
"It seems a bit ridiculous that they did that," Garcia added.
The trees on campus, some even donated by employees, are what the grads say separate the campus from other schools.
"We get a lot of bad talk from other schools just because apparently we are the ghetto school, according to them, but it is actually a really nice school," Garcia said.
While the former students say there is a lot of discussion on the internet about the vandalism, they hope the summer break will discourage any potential retaliation against other schools.