The girlfriend of a man who died after a fight outside an Oceanside bar cried on the stand Tuesday as she listened to the 911 call made the moment she found her boyfriend not breathing.
Derrick Belser, 40, is accused of involuntary manslaughter in the death of 27-year-old Mark Girard Jr.
According to Oceanside police, Belser and Girard were involved in a fight at the rear entrance of the Fire Water Saloon just after 2 a.m. on Dec. 28, 2014.
Belser allegedly knocked Girard down, causing him to hit his head on the ground. Girard was found by police unconscious at an apartment about three blocks away from the bar. He was taken to a hospital where he died two days later.
Police issued a plea for information on the fight on Jan. 1. An arrest warrant was issued for Belser and he turned himself in shortly thereafter. The bouncer pleaded not guilty to involuntary manslaughter, assault and battery charges and bailed out of jail.
In court Tuesday, the victim's girlfriend and one of Girard's close friends took the stand.
Girlfriend Cheyenne Hurley recalled the wound he sustained after his night out. She had spent the early part of the evening with him but later went to bed.
Hurley said Girard woke her up around 3 a.m. and showed her a bump on the back of his head and a black eye sustained in the fight with Belser. Prosecutors showed pictures of Girard's wound after he was punched during the incident, a black lump on the back of his head visible. Hurley suggested he ice his head and go to the hospital when he got home, she said, but he refused.
"The bump on his head was an indication of what was going on inside," Prosecutor Deane Logan said. "Inside the skull of Girard Jr., his brain was bleeding and it continued through the day and because of that, his brain continued to expand and swell."
The victim had surgery in 2003 for a brain tumor, according to Belser's defense attorney.
Hurley then recalled the moment she realized something was wrong. When she got home that evening, she said Girard was still in bed.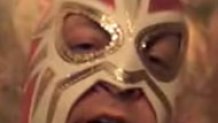 "I couldn't hear him snore. I went to check on him," Hurley said. "When I found him, he was not breathing."
Hurley said on the stand she found her boyfriend face down, limp and lifeless as she shook him. His face was pale and white, she said, and she could not hear him breathing. When she noticed blood, she called 911.
Hurley cried as she listened to that 911 call replayed in court. Girard was taken to a hospital, where he died two days later.
Girard's friend Zachary Fonseca-Miller also took the stand Tuesday, discussing the incident.
Belser's defense attorney said the group made multiple stops that night and had consumed a lot of alcohol before encountering Belser at the backdoor of the bar after closing time.
Prosecutors allege Belser followed Girard and his two friends outside the bar that night, punching two of them following an argument.
However, the defense has given a much different account of what happened, arguing that the men were repeatedly told to leave the bar after it closed. The men left, but Belser spotted them allegedly "hovering" at the rear entrance.
When Belser confronted them, they allegedly became hostile, according to the defense attorney.
That narrative, however, does not fit with how family members have described Girard. His father told NBC 7 earlier this year that his son was an avid surfer with a passion for habitat restoration.
The father called the incident "a really senseless act of violence."
In late January, a second alleged victim came forward accusing Belser of violently beating him at the Fire Water Saloon just two weeks before Girard's death.