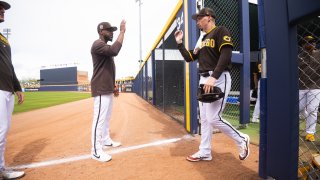 For the Padres, it's been five weeks.
Five weeks of drills and exhibition games and guys coming and going from all over the world for the World Baseball Classic. That's a long grind and in the middle things can get a little … well …
"It does get a little monotonous," says starting pitcher Nick Martinez, finding the perfect word. "Waking up at the same time, doing to same thing every day. As you start to creep towards Opening Day that fire starts to burn again and I'd say that's definitely what's happening."
When you get to that one week mark, a true tentpole in the preseason process, things change around a Major League ballclub. The intensity and excitement tick up just a few notches.
"It's always nice to finally get to the point where you can count days," says designated hitter Nelson Cruz, a veteran of 24 professional Spring Trainings. "The excitement that we feel in the clubhouse, and the fans are also on the same page, and we can't wait to get to Petco."
So, with just a handful of Cactus League games and a trip back to San Diego left, what exactly is the state of the San Diego Padres?
"I think everyone's just excited that we're all together," says Martinez. "I think the morale has been high. I think we're excited that we're all together for these last few days and excited to get the season going. Kind of a weird year with a lot of us being in the Classic but it's like we haven't skipped a beat."
Camaraderie is something this club built a ton of in 2022 and it hasn't left, despite several new additions and extended absences.
"Yeah, you don't lose it. I mean they're gone for 10 days or so but to get them all back was nice, for sure," says 1st baseman Jake Cronenworth.
All of this, of course, is simply a means to an end. The Padres are among the betting favorites to win their first World Series championship and everyone in the clubhouse can feel this is a special group of talent. One week off from games that count, the expectations are being embraced.
"Out job's not finished," says closer Josh Hader. "What we had last year, we know what it takes to get there but we've still got a lot to do this year. We're all excited about the guys we have together in this clubhouse and we know we have an opportunity to do a lot of special things."
Now, it's not all sunshine and puppy dogs. The Padres do have some concerns as the opener approaches. On the injury front, Joe Musgrove is still ahead of schedule in recovering from his fractured toe and amazingly catcher Austin Nola, who was hit in the face by a fastball on Sunday and suffered a broken nose, says he might be able to avoid the Injured List and start behind the plate on March 30 against the Rockies.
"I hope so," says Nola, who shows no physical signs of being plunked other than a few stitches on the bridge of his nose. "I feel like I'm getting back into baseball stuff as quick as possible and really ramping it up."
But, high-velocity reliever Drew Pomeranz has had another setback in his bid to return from a flexor tendon injury and is a longshot to be ready for the first game of the season. And then there's Yu Darvish.
He's been the Padres Opening Day starter the last two years and was the odds-on favorite to do it again. But, while winning the WBC with Japan he did not get as many innings under his belt as he usually does and admits to being concerned that he's not built up as much as he usually is at this time of the year.
"(I'll just) try to get back to what I usually do and see how I feel and just proceed from there," says Darvish through an interpreter.
The good news for the Padres is their third option is probably Blake Snell, an All-Star and 2018 Cy Young Award winner. He'd be the first choice for most clubs so while the Padres would rather not test their depth the first week of the year, it's nice that they have enough talent to do it and still win.
LISTEN: With NBC 7 San Diego's Darnay Tripp and Derek Togerson behind the mic, On Friar will cover all things San Diego Padres. Interviews, analysis, behind-the-scenes...the ups, downs, and everything in between. Tap here to find On Friar wherever you listen to podcasts.