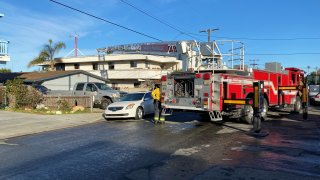 A man in his 80s was killed during a second-alarm fire Sunday morning at an apartment building in Imperial Beach, authorities said.
The fire in the 500 block of 7th Street is under investigation by the San Diego Sheriff's Department Bomb/Arson unit. Investigators said Monday they do not believe the deadly fire is suspicious or criminal in nature, but an investigation is still underway.
Crews arrived at the scene at about 5:20 a.m. Sunday to find the fire expanding from the laundry room to the second story where it trapped some people, a spokesperson for the Chula Vista Fire Department said.
Of the people trapped, one person needed to be extricated from the second floor, which was engulfed in flames, the SDSO said.
Firefighters pulled the man out and attempted CPR but the man did not survive, the sheriff's department said. The man has not yet been identified.
Eight adults and two children were displaced as a result of the fire, the Chula Vista fire department spokesperson said.
The cause of the fire is still under investigation.