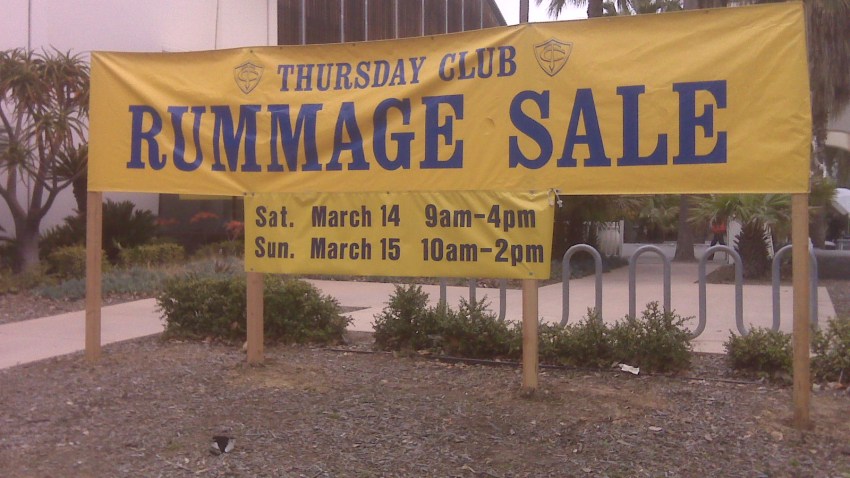 There two kinds of people: People who hate other peoples junk -- and those who love rummage sales!
Huge bargains attracted huge crowds to Balboa Park where the 82nd Annual rummage sale was held Saturday. Among the items for sale, ladies clothing, men's clothing, antiques, furniture, glassware, china, silver, jewelry, hats, purses, furniture, you name it.
San Diego's largest rummage sale will be Saturday March 14 from 9 a.m. to 4 p.m. and this Sunday March 15 as well from 10 a.m. to 2 p.m. at The Activity Center in Balboa Park, on the corner of Park Boulevard and Inspiration Point Way.
It's a sure sign of the times that more than 500 people lined up outside the center Friday night, trying to be the first in line.
The lines started forming before midnight and the parking lot was full, a park ranger told NBC San Diego. The ranger also said that he wouldn't be surprised if about 1,000 people were lined up before the gates finally opened.
Hosted by The Thursday Club, a group that promotes social, educational, cultural and civic activities in San Diego, the annual rummage sale actually benefits San Diego. All proceeds from the event come back to America's Finest City -- half to Balboa Park and the other to 18 other local charities.
"We were concerned this was going to either fall off because of the economy, or boosted by the fact people needed to find good deals, and we've got some really quality stuff," said Anne Ford from The Thursday Club.
Among the bargains, a china set from France that went for 60 dollars and a Saint John evening gown for fifty dollars.
The Thursday Club hopes to raise one hundred thousand dollars, with half the proceeds going to Balboa Park and half to 18 local charities.
"We are thrilled to be part of it, " said Charry Palma from Home of the Guiding Hands, who also said these are tough times for non-profits.
Shoppers were thrilled. "I got purses, used purses and a new purse," said one bargain hunter who bought a new leather purse for five dollars.
The sale continues tomorrow from ten to two with everything going for half off. That is, everything that is left.
So go support The Thursday Club's largest fundraiser for its 82nd year. You know what they say -- one man's trash, is another man's treasure! Browse through new and gently-used merchandise including, antiques, furniture, sporting equipment, holiday decor, kitchen appliances, toys, books and clothing.
And another perk: Parking and admission are free.