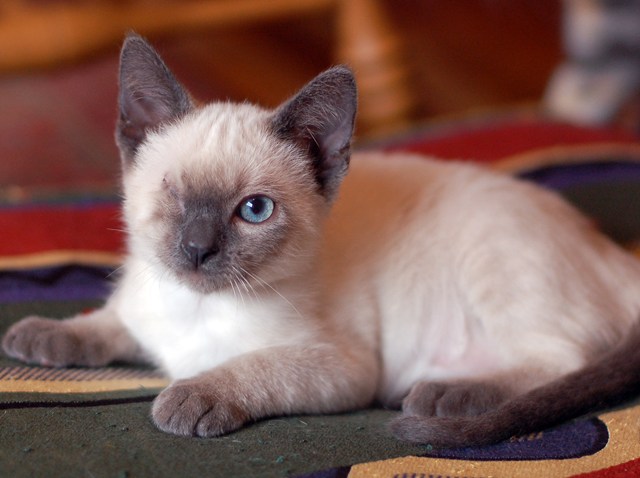 The folks at a local animal shelter nursed a nearly blind kitten back to health.

The young cat, which has since been named Simon, was found May 16 and brought in to the county animal shelter in Carslbad by a good Samaritan. She said that kitten's mother and siblings were dead when it was found. It's not known what caused their deaths, but all of the kittens would eventually die whatever caused their mother's death.
---
---
"When he arrived here, Simon weighed less than 1 pound, and he probably couldn't remember a time when his eye had not hurt," said Helen Woodward Animal Center spokesman John Van Zante.

A growth behind the then-1-month-old Siamese-blend's eye caused the eyeball to burst, then he scratched at it until it came out, according to Van Zante.

"At first they considered putting him down because there was nobody to care for him after the surgery," Van Zante said. "Fortunately one of our HWAC foster care volunteers could take him."

Two months later, the kitten has made a complete recovery otherwise, according to Van Zante, and shelter officials said Simon is a "fun-loving little kitten [that] enjoys the neighbor kids, other cats, toys and laps. He's also developed an addiction to sunbeams."

Simon will become available for adoption Thursday morning at 11:00 at Helen Woodward Animal Center. HWAC is charging a $75 adoption fee for all kittens, including Simon, during the month of August. The shelter is at 6461 El Apajo Road in Rancho Santa Fe. Call 858-756-4117 for more information.