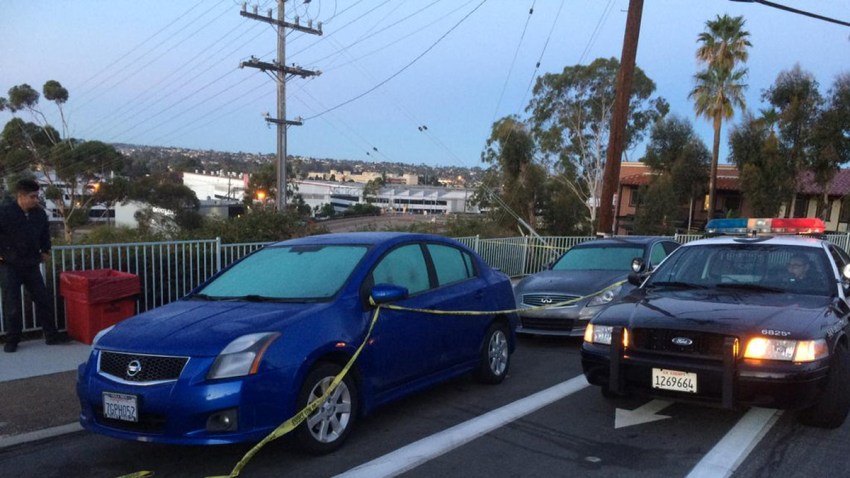 A 35-year-old man was shot and killed near Old Town San Diego State Historic Park Friday night and police have arrested a neighbor in connection with the killing.
Friends set up a memorial Saturday for 'Leo," who they call a hero. According to friends 'Leo' was an Army veteran living at the VA Aspire Center just a block away. He was described as non-confrontational and a 'gentle giant.'
The San Diego Police Department (SDPD) said a 911 caller reported a wounded man on the sidewalk in the 2200 block of San Diego Avenue around 10:20 p.m. When officers arrived in the area, they discovered an unconscious victim suffering from major gunshot trauma to his upper body.
Despite efforts to save his life, the man succumbed to his injuries at the scene, police confirmed.
Investigators scoured the neighborhood for witnesses and eventually spoke to resident Johnny Gastelum, 38. Police found him to be in possession of a handgun and ammunition.
After gathering further evidence and statements from witnesses, investigators determined Gastelum as the suspect in the man's deadly shooting.
Police said both the suspect and victim live in the Old Town area. Though the motive for the killing is unknown, officers believe the men were involved in a confrontation on San Diego Avenue just before the shooting.
Gastelum was booked into San Diego Central Jail on one count of first-degree murder. He's slated to appear in court on Wednesday. The victim's name has not yet been released.
Some Old Town residents were shocked to hear of the deadly crime in their neighborhood, including Paul Tessaro.
"It's a little disconcerting for this peaceful neighborhood, not knowing what happened," Tessaro told NBC 7. "It's a very tranquil neighborhood, very unlikely that something like this would happen."
The shooting is under investigation and anyone with information should contact the SDPD's Homicide Unit at (619) 531-2293 or Crime Stoppers at (888) 580-8477.